Posted on
August 21, 2007

by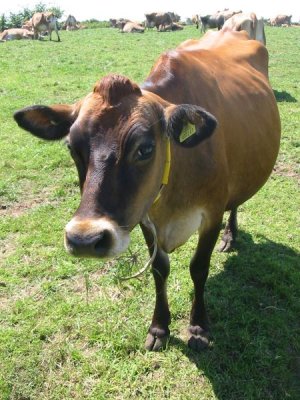 rBGH, or recombinant Bovine Growth Hormone is a synthetic form of growth hormone injected into cows to increase growth rates and milk production. Manufactured by Monsanto, rBGH was introduced to the market in 1993 under the product name Posilac. rBGH is also referred to as rBST (recombinant Bovine Somatotropin).
Cattle naturally produce BGH. In the 1930′s, farmers discovered that injecting this hormone from slaughtered animals into dairy cows increased their milk production. But the difficulties in getting BGH limited this practice. Recombinant DNA technology allows for the production of rBGH commercially.
When used in lactating cows, rBGH can increase the milk production by 10-15%, by limiting mammary cell death. So while an untreated cow's milk production will begin to decrease roughly seventy days after the start of lactation, a cow treated with rBGH can continue producing at peak levels.
The increased milk production in cows can lead to mastitis, an infection that is treated by antibiotics. While it is illegal to sell milk contaminated with antibiotics, many people are concerned that contaminated milk still gets into distribution and can cause antibiotic resistance in the population. rBGH can also inhibit the cow's ability to reproduce later on, cause bone weakness, and possibly premature death.
While many studies show no increase in health risks associated with the use of rBGH, cows treated with rBGH do have increased levels of bovine insulin growth factor 1 (IGF-1). rBGH is said to be removed from milk during the pasteurization process, but IGF-1 is not. According to the Organic Consumers Association,
Eli Lilly, in its application for registration of rBGH, admitted that IGF-1 blood levels of injected cows are increased up to ten-fold. IGF-1 is resistant to pasteurization and digestion, and is readily absorbed from the small intestine. Monsanto's own data revealed that feeding IGF-1 to adult rats for only two weeks significantly increased body and liver weights, and bone length.
While IGF-1 is naturally occurring in humans, increased levels of IGF-1 have been found in patients with certain types of cancer, including breast cancer, although other studies have shown that IGF-1 levels in the blood are not linked to milk consumption.
There is no requirement for milk produced through the use of rBGH to be labeled as such. Organic standards do not allow for the use of rBGH or antibiotics in milk production, so milk that is certified organic is also rBGH free.
The FDA maintains that "no significant difference has been shown between milk derived from rBST & non-rBST treated cows," but the European Union, Canada, New Zealand and Australia all prohibit the use of rBST/rBGH.
The range of reports is wide and conflicting, and both sides may be heavily biased. Organic farmers stand to gain business from consumers who are concerned about the use of rBST, but the FDA has interesting connections to Monsanto. Michael Taylor, former FDA commissioner for policy was an attorney for Monsanto prior to joining the FDA, and went to work for Monsanto directly upon leaving the FDA.
rBGH-free dairy production is better for the health of the cow, and organic farming practices prohibit the use of pesticides in cattle feed, so there are other benefits to organic milk beyond the issue of rBGH's effects on humans.
No matter where you fall on the rBGH issue, it's important to make educated food choices and feel confident in the products you and your family consume.
How do you feel about rBGH? I'd love to hear your opinions.