Posted on
April 12, 2012

by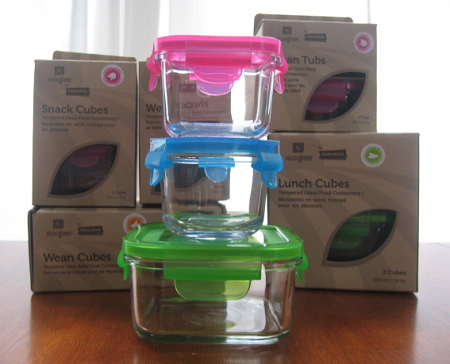 I know this makes me a terrible Greenist, but in my kitchen cupboard right now is a small mountain of plastic food storage containers, some of which I've owned since my freshman year of college (way back in the early '90s), well before any of us had ever heard of BPA and had any idea to look for "BPA-free" (or anything-free) labels on plastic containers before we bought them.
I've been meaning to remedy this situation for years. I have bought a few glass containers in various sizes to replace the plastic, but my collection could definitely use some rounding out before I chuck all the plastic for good. So when Mickey asked if I'd like to give some Wean Green containers a try, I jumped at the opportunity. (Fine; there may not have been any actual jumping, but I did fire off a very prompt "Yes, please!" reply, and that's close enough, I say.)
Wean Green containers are BPA-, PVC-, and phthalate-free, and since they're glass, they're nonporous and impermeable, too. They're dishwasher- and freezer-safe, and microwave-safe without the lid. And those lids? They are awesome. They snap tight with easy-to-flip tabs, and there's a seal around the underside edge that won't let anything at all seep through. I tried to make these puppies leak, just to test them thoroughly. I couldn't make it happen in my kitchen, so my guess is nothing's going to spill out in your purse, either.
The container itself is tempered glass that Wean Green claims is five times stronger than a typical drinking glass. I didn't run my own tests with the containers I received, but based on this video, these things can take a pretty serious beating without breaking. Given my terrible track record with broken drinking glasses, this is good news for me.
I love that these containers are durable and practical. I love the brightly colored lids. I love that they came to my house packaged only in recyclable paper and cardboard—no plastic whatsoever (aside from the lids). I also love that the company is a member of 1% for the Planet, a coalition of companies that donate 1% of their profits to environmental organizations worldwide. Overall, I give Wean Green a solid thumbs up.
I have only two complaints about Wean Green's containers, and they are minor ones. First, I wish the containers themselves stacked together neatly. (They do not.) But I suspect you're just supposed to stack them on top of one another with the lids in place, and maybe people with bigger kitchens and more cupboard space than I have would be just fine with that plan.
My second complaint is actually a benefit—for you! I didn't thoroughly check the sizes on Wean Green's website before I agreed to review the containers, so I didn't realize until I received them that their primary intended use is for baby food storage. I don't have a baby (and have no plans to acquire one anytime soon), and all but the lunch cube size is too small for most of my leftovers and such. The tubs and snack cubes are still perfect for toting carrot sticks, salad dressing, and portioned-out snacks to work, but for those purposes, I simply don't need as many small containers as I now have on hand. Hence, this review has now turned into a giveaway as well! Do YOU need some awesome new baby food containers (or a few containers for baby-sized anything else)? If so, I'd love to send you some of the samples Wean Green was kind enough to send to me. Just leave a comment on this post by midnight on April 19, and we'll throw your name in the hat. (The hat, in this case, is the random number generator, of course.) Good luck!