Posted on
July 5, 2012

by

The Greenists are on vacation.  Please enjoy this recycled post.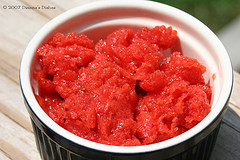 During the summer I love to make desserts that are centered around fruit. You can even add fruit to salads. You can go really easy and simply enjoy the fruit on its own or perhaps with a little whipped cream. Or how about a little ice cream? There are so many things you can do with fresh fruit this time of year!
Peaches are a particular favorite of mine to play around with this time of year. Also blueberries. In some areas you can even still find strawberries.Granita is a particular favorite that I like to make this time of year and can be made with many different fruits. It's all about simply scraping the mixture as it freezes.
Another thing I like to do when fruit is in season is to freeze some to use later. I freeze strawberry and rhubarb together, along with strawberries by themselves. I freeze blueberries and they are actually good as a frozen treat in and of themselves and perfect for use in blueberry muffins later. Peaches can be frozen too for cobbler or ice cream. These frozen fruits can be used to make smoothies, which make the perfect breakfast or snack on the go.
What is available now where you live? What do you like to do with your summer fruits? Do you have an tips or ideas of how to use those summer fruits?