Posted on
April 5, 2012

by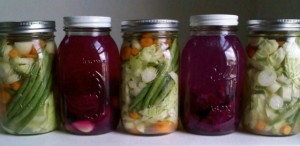 One January night almost eight years ago, Wolf put a plate of stir fried vegetables in front of me. The colors were glorious: red and yellow peppers, carrots, zucchini, and summer squash. As I was about to take a bite, a thought struck me like a bolt of lightening. I looked out the window and saw nothing but snow and ice. I looked back at my plate of summer vegetables, out the window again, then put my fork down. "Where did these vegetables come from" I asked my beloved. He shrugged and said "Hannaford."
That began our journey to eating locally.
The gateway to local foods was eggs. One of the farmers in town put a sign up on the bulletin board in the village so I sent Wolf up to buy some. We've been loyal customers ever since (except when we have our own chickens) buying not only eggs from her but pork and chicken as well.
Our journey has been slow and steady.
There's a couple reasons. First, cost. Second, skill.
Most farmers want money up front (or at least a portion of the money) so coming up with a couple hundred dollars to buy a half a pig or a whole lamb hasn't been easy. But it's worth it. It's the same with the CSAs we belong to though the ones in my area have payment plans.
The skills to know what to buy, when, and how much has come with experience. Discussions with the farmers we buy from have been invaluable learning tools regarding these skills.
The skill of storing the excess has come with trial and error. As much as we like to make fun of my lack of cooking skill, the truth is, I do most of the canning and preserving on Howling Hill. Books were my teachers as was the internet.
As we move closer and closer to seasonal eating, I am learning how to preserve and ferment foods so we have them available to eat during the lean months. I much rather have foods I canned in the summer than summer foods in the winter. Such foods have high carbon prints, and if they are not organic, goddess only knows what chemicals they were grown in and transported in from the southern hemisphere.
I remember us being so overwhelmed, so completely at a loss as to how we would store the foods we were buying in bulk. But in the slow, steady pace of the tortoise has lead me to confidence about canning and preserving, fermenting and freezing.
If the girl who could barely boil water can learn these skills, so can you. Just remember every journey starts with a first step and a deep breath.