Posted on
February 20, 2008

by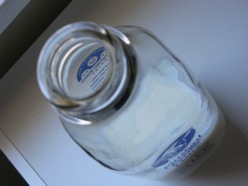 We've talked about uses for expired yogurt and expired aspirin, but what about expired milk?
Depending on how it's stored, milk can considered good for 3 to 7 days after the "sell by" date.  I don't know about you, but about three days after the sell by date, I start to convince myself that the milk smells or tastes funny even when it probably doesn't.  The University of Missouri State Extension Specialist for Food Safety says, "milk held past the expiration date may be clotted and smell, but it is almost certainly safe – just as yogurt and buttermilk is."  But there are also many reports that say you shouldn't consume expired milk as well.  You have to use your common sense and do what you're comfortable with.
Some recipes (like this one for coffee cake) actually call for sour milk, and it's widely believed that baking with expired milk is safer than drinking it.
A commenter on Thrifty Fun recommends pouring it down the toilet if you have a septic tank.  The enzymes will help break down the contents of the tank.
Much like yogurt, it's a great addition to compost, and another Thrifty Fun commenter swears by watering roses with sour milk.
You could take a milk bath.
Or you could use it to make your own paint.
If you know you're not going to use the milk in your fridge before the expiration date, freeze it in smaller quantities and use it as needed.