Posted on
July 3, 2008

by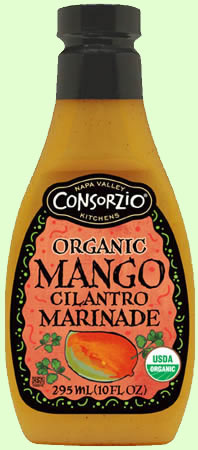 On Tuesday, when I asked for suggestions for my new HFCS-Free posts (first one coming up next), Noelle asked about High Fructose Corn Syrup free Ketchup.  Well, there's an easy answer.
Go organic.  A food cannot contain HFCS and be USDA certified organic.  You still have to pay attention to labels, because some products will boast organic ingredients without being entirely organic.  But if a product is certified organic, you're safe from HFCS.
Since this is a big picnic and barbecue weekend here, lots of ketchup, mustard, relish, and barbecue sauce will be consumed.  May as well make it organic!  Not only is organic food grown without pesticides, but it's free from chemical additives and other icky modified ingredients.
And when it comes to condiments, you won't notice the difference when you make the switch, so it's a great way to subtly introduce guests to the wonders of organic food.
Here's what's in my fridge:
Heinz Organic Ketchup - It's available in most grocery stores and warehouse stores, making it an easy purchase.  I don't think it tastes any different than regular Heinz, so it may convert event he most staunch health food hater.  Although, I'm disappointed by Heinz's recent actions, and will probably switch to Annie's Naturals Ketchup when the Heinz runs out.
Speaking of Annie's – I'm in love with Annie's Horseradish Mustard.  It is, hands down, my favorite sandwich topper.  Many times, I feel that my food is simply a vehicle for this mustard.   Not big on horseradish?  Annie's Naturals mustard also comes in dijon, honey, and classic yellow.
Nayonaise - It's not certified organic, but it is made with organic soybeans.  It's free of icky/genetically modified ingredients, and unlike regular mayo is vegan.
Consorzio Organic Mango Cilantro Marinade – I haven't tried it yet, but it's earmarked for some weekend grilling.
Here's what's on my shopping list:
Woodstock Farms Organic Relish and Pickles -  I'm one of those people who will fish pickles out of the jar just to snack.  But I've noticed that a lot of pickles, relish and pickled hot peppers contain yellow #5.    There's a lot of controversy as to whether yellow #5 causes asthma and allergy problems, but I figure it's not something I need in my diet, and I really don't need my relish to be funky yellow/green.
Bandana Bill's Blazing Blue Barbecue Sauce – I'm going to have to order some.  Blueberry barbecue sauce!  Aren't you intrigued?