Posted on
February 25, 2011

by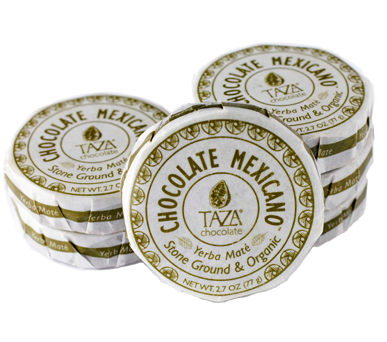 Yes, I bought this chocolate for no better reason than that it's round.  Admit it, you would too.  It was an impulse buy.  The paper wrapped disks on display at the counter where I bought lunch last week caught my eye.  The fact that the wrapper had the word chocolate on it, right when I happened to be craving chocolate totally sold it for me.
After I bought three disks of Taza Chocolate Mexicano (Yes, three.  Don't judge), I was thrilled to learn what a great company makes them.  And after J and I managed to consume all three disks of chocolate last weekend while being completely gluttonous doing very serious taste testing, I can pretty safely say that Taza Chocolate Mexican is my new chocolate obsession.
We tried the Yerba Mate, Cacao Puro, and Salted Almond bars, and they were all amazing, but the Yerba Mate was my favorite.
From Taza:
"We make Yerba Mate Chocolate Mexicano with our signature stone ground chocolate and a hint of unsmoked Yerba Mate powder. Usually consumed as a tea-like beverage, Yerba Mate is hugely popular across South America. We source our Yerba Mate from the Kraus Family farm in Argentina with the help of EcoTeas. Yerba Mate Chocolate Mexicano is smooth and grassy, with notes of green tea on the finish. And it's very stimulating."
I love dark chocolate, but much like strong coffee, there's a balance that needs to be there.  Taza chocolate is perfectly balanced.  It's full-bodied and rich, without being bitter or overpowering, and doesn't have a sour aftertaste.  The stone grinding process creates a wonderful, almost gritty, texture that is incredibly addictive  appealing.
Plus, Taza chocolates are made with concern for environmental and community sustainability.
About Taza:
"Alex and cofounder Larry Slotnick decided early on that they wanted to start a company with a conscience. Taza Chocolate would be sustainable – not just financially but environmentally, and community-focused. After considering models in use in the coffee field and analyzing the current state of the chocolate industry, Alex and Larry set to work on a business plan. Their company, Taza Chocolate, would produce 100% stone ground, organic chocolate using only the best ingredients while compensating growers fairly for their work."
And the fact that there's no calorie info on the package has totally got to mean there's no calories in the chocolate, right?  At least that's what I'm telling myself.