Posted on
April 30, 2010

by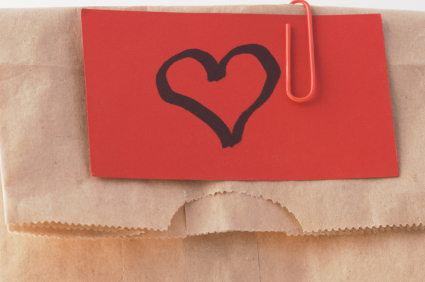 The following is a guest post by Erin.  If you would like to guest post for TheGreenists.com, e-mail courtney at thegreenists dot com.
When volunteering at my daughter's school, I've become increasingly disturbed by the contents of her classmates' lunchboxes.   Recently, my kid was the ONLY child in her class to bring a veggie in her lunch, and one of only two children to bring water to drink.  Everyone else had an assortment of pre-packaged processed foods plus a "juice" box of some sort.  What gives?!?
I get it: we parents are a busy lot.  Family, work, school, extracurriculars, chores, etc. require more and more of a time commitment.  Healthy eating and sensible meal planning have taken a backseat, and the convenience of pre-packaged grocery store offerings is too much for many folks to resist.
The trouble with all of this convenience food is that while it may be fun and easy to serve, it is unhealthy for both our children and our planet.
An increasing number of items sold in supermarkets have questionable nutritional value.   The majority of pre-packaged foods are loaded with artificial colors/flavors, sodium, preservatives, processed sugar, etc.  Just because it is sold in a grocery store does not mean it should be served to your family!
The environmental impact of our society's disposable, pre-packaged, fast-food way of life is as troubling as the obesity epidemic.  So much excess packaging surrounds items marketed towards busy parents, and we see only the convenience they offer.  The vast majority of this disposable packaging comes to rest in our landfills, which is shameful considering the abundance of reusable containers available.
Packing healthy lunches for our children doesn't have to be complicated.  Here are some suggestions for improving the quality of kids' lunches:
Solution #1: Keep it simple.  Kids don't need fancy food!  In fact, most kids prefer food they can readily identify.   In my house we rotate cheese, hummus/pita bread or peanut butter and jelly (on whole grain bread) for protein; pretzels, crackers, or raisins for snack; and whatever fresh fruits/veggies we have on hand.  Add some water in a reusable bottle plus a small cloth napkin, and you're good to go.
Solution #2:  Pack lunch boxes the night before.  Sure, sure, the last thing we want to do at day's end is anything chore-like.  Mornings are hectic, and many parents resort to packing unhealthy foods because it's quick and easy.   Once it becomes part of the routine, though, packing lunch in the evenings takes virtually no time at all.
Solution #3: Rather than rely on "cutesy" supermarket items, add a personal, creative touch to foods you prep yourself.  Cookie cutters make fun sandwich shapes; make "ants on a log" with celery, peanut butter and raisins, or try including a hand-written note to your child.  These things will make your child smile as much as any store-bought lunchbox offering.
Encouraging healthy eating in our children isn't optional; it should be a top priority for all of us.  Establishing good nutritional habits now sends a clear message that respecting our bodies and the environment is well worth the investment.
Erin is wife to a self-employed stay-at-home dad and the mother of 2 well-fed children. She enjoys natural/vegetarian cooking and her courageousness in the kitchen is rivaled only by the size of her compost bin. Her fun, can-do attitude toward healthy foods is contagious, but in a good way!