Posted on
March 16, 2009

by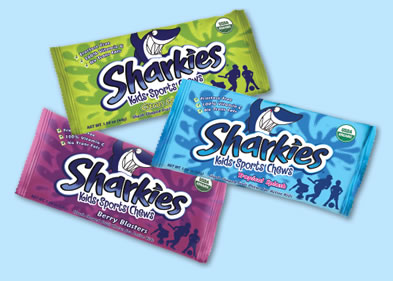 I've always loved gummy candies.  In trying to eat healthy, cutting out little treats like spice drops and sour fruit candies is the hardest thing for me.  But the last time I considered buying a few sour chewy candies from the bulk section of the grocery store, I was beyond appalled by the ingredients.  In addition to High Fructose Corn Syrup, and Palm Oil, they contained Talc!  Gross!
The last time I was at Target, there was a sale on Sharkies and I decided to give the Citrus Sour Power flavor a try, even though they're branded as a kids snack.
Sharkies are certified organic, and a source of electrolytes, making them idea for as a sport snack.  I plan to tuck a few packs in my bike bag when I start taking long bike rides again this spring.  But they're also a great substitute for gummy candies, so I can indulge every once in awhile without ingesting lots of icky ingredients.
They are gelatin free, wheat free, fat free, vegetarian, non-GMO and don't contain gluten.
Ingredients:
Organic Evaporated Cane Juice, Organic Tapioca Syrup, Organic White Grape Juice Concentrate, Pectin, Citric Acid, Ascorbic Acid, Colors Added (Black Carrot Juice Concentrate, Turmeric, Annatto), Natural Flavors