Posted on
August 22, 2007

by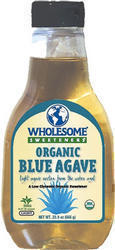 Well, it's no secret that I have a sweet tooth and love a good sugary splurge every once and awhile. But I'm also health conscious, and concerned about the effects of too much processed sugar on my body.
My rule is if it's sweet, it has to be worth it. Green Tea Ginger Ice Cream – worth it. Newman-O's – worth it. Chocolate in any form – worth it. Sugar or honey in my morning cup of tea – not worth it.
Organic Blue Agave offers natural sweetness without the blood sugar spike. This sweet, mild nectar is a perfect multi-purpose sweetener for beverages, fresh fruit and general table-top use. With a glycemic index of 39 or less, it is the preferred sweetener of many diabetics and those trying to control their blood sugar.
It tastes like honey, and a few drops are all it takes to sweeten up a cup of tea.
It's also great for baking. The last time I made zucchini muffins, I halved the sugar and added some Agave. I didn't miss the sugar at all. Check out the Wholesome Sweeteners website for some great recipes.