Posted on
February 20, 2012

by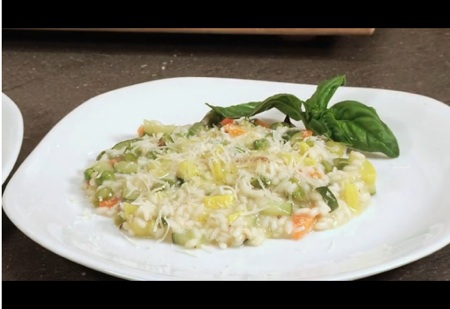 We love it when kids get on board with healthy eating! That's why we're happy to share this week's Meatless Mondays recipe courtesy of Kids Who Love to Cook, a web series that takes you inside the kitchens of seven real-life kids who are taking their health into their own hands. It encourages kids ages 8 to 16 to appreciate good food while teaching important life lessons about budgeting, measuring, creativity, and being able to adapt when faced with challenges. These are all lessons that are important for a green lifestyle as well!
Pop on over to kidswholovetocook.com to watch the series for yourself! Meanwhile, kid chef Abby had this to say about today's recipe:
"Everyone is intimidated about making risotto. Like, as if there's some mythical way of cooking it, and after watching the show Top Chef where even professional chefs were eliminated because the judges said they didn't know how to make a proper Italian risotto, I was even more scared to do it. … Risotto, if you know the rules, is actually easy to cook once you've assembled the ingredients that you need, including the broth. It takes all of 12 minutes to cook risotto if using Vialone Nano rice, 15 minutes for Arborio rice. … To show how real Italian risotto should be cooked, we invited Roberto Deiaco, who is the executive chef of Armani Ristorante 5th Avenue. You can't get a better expert than him to teach us kids how to make risotto. … And even if Chef Roberto works at a fancy restaurant in New York City, we agreed to make a simple vegetable risotto so that the ingredients are easily available. But this is no ordinary vegetable and rice dish, cuz I never tasted anything as delicious! It was a new experience, and I was very surprised how rice and vegetables could taste this good. The rice was super creamy — try to use look for Vialone Nano rice. … So, the rules for making a real Italian risotto: it should be fluid and easily spread on a plate. What Italians call all'onda. It is not a sticky mound of piled up rice, cuz that's rice pudding. Risotto should be al dente, meaning firm to the bite, and it should be served and eaten immediately, as soon as it's cooked! … Chef Roberto also said to wash all the vegetables before cooking!" 
Risotto Giardiniera (Vegetable Risotto)
Ingredients:
1 cup Vialone Nano rice
1/2 cup peas
1 shallot
2 young carrots
4 shiitake mushrooms
1 yellow squash
1 zucchini
8 asparagus spears
1/2 cup freshly grated parmigiano reggiano, plus some more for serving
2-3 tablespoons extra virgin olive oil
salt and freshly grated white pepper
For the vegetable broth:
1 onion
1 stalk of celery
1 carrot
1. Make the vegetable stock: boil 4 cups of water, cut the onion, carrot and celery in large chunks and boil for 30 minutes. With a slotted spoon, remove the carrots, onions and celery pieces, or put a strainer over the pot to separate the broth. Keep it warm (on a low flame) when you are about to cook the risotto.
2. Prepare the vegetables: cut, slice and dice the zucchini, yellow squash, asparagus, carrots, shiitake and shallot as it's done in the video.
3. In a saute pan, heat the olive oil and add the minced shallots. Cook until translucent, then add all the vegetables except the peas. Stir and saute the vegetables for 3-4 minutes. Add a bit more olive oil if needed.
4. Add the rice and let it saute with the vegetables for 3 minutes. After the rice gets nicely toasted, add the peas.
5. Add several ladlefuls of vegetable stock until the rice is covered with liquid. Adjust the heat to medium-high and keep stirring until all the liquid is absorbed by the rice. When there is no more liquid in the pan, add more vegetable stock and stir continuously. Keep on doing this — adding more vegetable stock when there is no more liquid and stirring like crazy — for exactly 12 minutes (15 minutes if using Arborio rice).
6. Turn off heat. Let the finished risotto stand for 1 minute then add the grated parmigiano, 1 tablespoon of olive oil and a ladleful or two of vegetable stock and mix — this will make the risotto all'onda (moving like a wave). Add freshly ground white pepper and salt to your taste.
7. Distribute the risotto on 4 plates. Let it spread by tilting the plate around and if needed, tapping the back of the plate. Sprinkle with parmigiano and drizzle with a little olive oil.
Makes 4 servings. Bon appetit!
For a video of how to make this risotto, click here.