Posted on
July 9, 2012

by

The Greenists are on vacation.  Please enjoy this recycled post.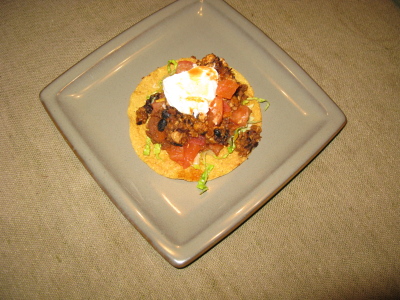 This is a great "intro to tofu" recipe. If you've tried tofu before and thought it tasted like feet, you'll be pleasantly surprised. I've included the brands I use, in case you're curious.
Ingredients:
Cut the tofu into 1/2 inch cubes. Cook over medium-high heat in 2-3 tablespoons of canola oil until browned slightly.
Add black beans
Mix in taco seasoning and 2/3 cup water. Bring to a boil. Turn heat to low and simmer, uncovered, for 9-10 minutes.
Heat refried beans in the microwave for 1-2 minutes.
Spread refried beans on the tostada shells, then layer tofu & black bean mixture.
Top with lettuce, cheese, tomatoes, etc.
When I made this, my husband and I pigged out on tostadas and still had enough to pig out again at lunch the next day, so I think this should serve four or five people easily. It's quick and easy and I swear the tofu doesn't taste at all like feet.