Posted on
December 12, 2011

by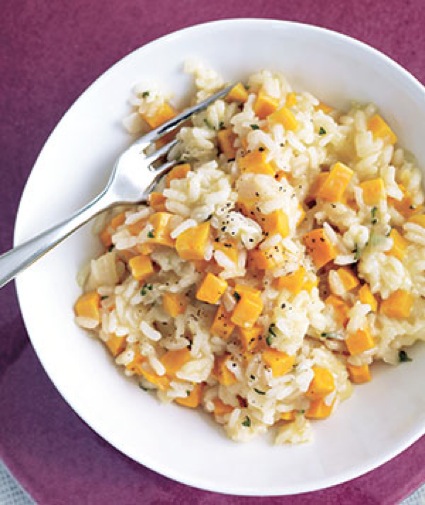 Image credit: http://www.realsimple.com/food-recipes/browse-all-recipes/sweet-potato-risotto-00000000007666/index.html
This takes a little while to prepare, but trust me, the result is worth it!
Ingredients:
2 tbsp olive oil
1 large onion, finely chopped
kosher salt
black pepper
2 small sweet potatoes (approx. 1 lb.), peeled and cut into 1/4-inch pieces
2 cloves garlic, chopped
1 cup Arborio rice
1 cup dry white wine
1/2 cup grated parmesan cheese
2 tsp chopped fresh oregano
Directions:
1. Heat the oil in a large saucepan over medium heat. Add the onion, 1/2 tsp salt, and 1/4 tsp pepper. Cook, stirring occasionally, until soft (about 4 to 6 minutes).
2. Add the sweet potatoes and the garlic and cook, stirring occasionally, for 2 minutes.
3. Add the rice and cook, stirring occasionally, for 2 more minutes.
4. Add the wine and cook, stirring frequently, until absorbed.
5. Measure 3 1/2 cups of water. Add 3/4 cup at a time and cook, stirring occasionally and waiting until each addition is absorbed before adding the next. It should take 25 to 30 minutes for all the water to be absorbed.
6. Stir in the parmesan and oregano.
Serves 4.
Bon appetit!