Posted on
May 21, 2012

by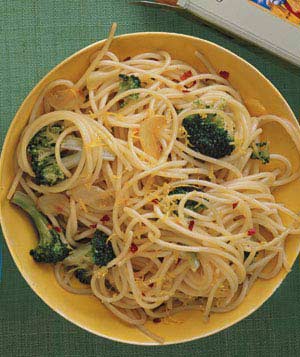 We have a difference of opinion about this dish in my household: I think it's a great main course if you're in the mood for a light dinner; my boyfriend thinks it's better as a side dish. No matter how you serve it, it's delicious!
Ingredients:
12 ounces spaghetti (3/4 box)
3 tablespoons extra-virgin olive oil
4 cloves garlic, thinly sliced
1 1-pound package frozen broccoli florets, thawed
1/2 teaspoon crushed red pepper
kosher salt
1 lemon, zest finely grated and juice squeezed
1 cup grated Parmesan (4 ounces)
Directions:
1. Cook the pasta according to the package directions. Reserve 1 cup of the cooking water, drain the pasta, and return it to the pot.
2. Meanwhile, heat the oil in a skillet over medium-high heat. Add the garlic and cook, stirring, until golden, 1 to 2 minutes.
3. Add the broccoli, red pepper, and 1 teaspoon salt. Cook until heated through, 1 to 2 minutes.
4. Add the broccoli mixture, lemon juice, Parmesan, and reserved pasta water to the pasta.
5. Cook over medium heat, stirring, until combined and heated through, 2 to 3 minutes. Sprinkle with the lemon zest and serve.
Bon appetit!
Recipe courtesy of Real Simple.