Posted on
November 28, 2011

by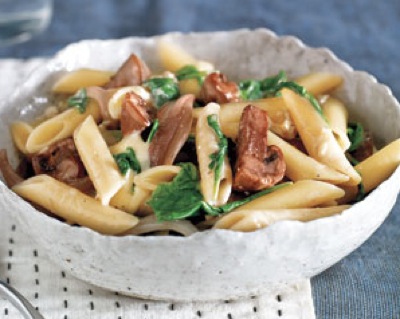 Image credit: http://www.realsimple.com/food-recipes/browse-all-recipes/pasta-with-brie-mushrooms-arugula-recipe-00000000023129/index.html
You're probably sick of leftover turkey by now, right? If you're in the mood for a light, easy dinner, this is one of my favorites!
Ingredients:
12 oz. penne (3/4 box)
1 tbsp olive oil
1 lb. button mushrooms, quartered
1 small red onion, sliced
1/2 cup dry white wine
kosher salt and pepper
8 oz. brie, cut into 1-inch pieces
4 cups baby arugula
Directions:
1. Cook the pasta according to the package directions. Reserve 1/2 cup of the pasta water, drain the pasta, and return it to the pot.
2. Meanwhile, heat the oil in a large skillet over medium-high heat. Add the mushrooms and onion and cook, tossing, until the mushrooms begin to release their juices, about 2 to 3 minutes. Add the wine, 1/2 teaspoon salt, and 1/4 teaspoon pepper and cook until the mushrooms begin to brown, 5 to 6 minutes.
3. Toss the pasta with the brie and reserved water until coated. Stir in the mushrooms, onion and arugula.
Serves 4. Cheers to Real Simple.
Bon appetit!