Posted on
January 23, 2012

by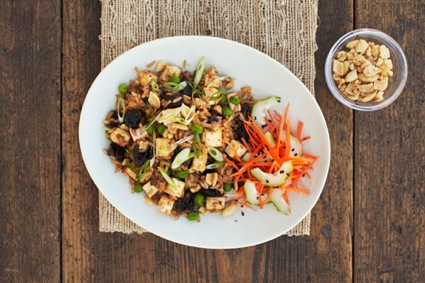 We are thrilled to present today's Meatless Mondays post courtesy of Olympic swimmer Natalie Coughlin! You undoubtedly remember Natalie from the 2004 and 2008 Olympic Games, as well as Dancing With the Stars. She's also an organic gardener and proponent of healthy eating. Learn more about Natalie and her green lifestyle over at the California Dried Plum Board. We'll have another recipe from Natalie next week as well!
Ingredients:
3/4 cup chopped onion
1 serrano chile, chopped
2 tablespoons California dried plum purée
2 tablespoons soy sauce
2 tablespoons brown sugar
1 teaspoon tomato paste
3 tablespoons vegetable oil
4 cups cooked brown basmati rice
8 ounces firm tofu, diced
1/2 cup diced California dried plums
1/2 cup peas
1/2 cup chopped scallions
1/4 cup chopped roasted unsalted peanuts
1/4 cup julienned carrot
1/4 cup peeled, seeded cucumber cut into thin half-moons
Directions:
1. In a food processor or blender, process onion and chile to make a paste.
2. In a small bowl, whisk together dried plum purée, soy sauce, sugar and tomato paste.
3. In a large nonstick skillet, heat oil over high heat. Add onion mixture and cook 1-2 minutes. Add dried plum mixture, rice and tofu; stir-fry about 5 minutes or until hot. Add diced dried plums, peas and scallions and stir-fry 2 minutes more.
4. Transfer to a serving bowl or individual plates and garnish with peanuts, carrot and cucumber.
Gold medalist swimmer Natalie Coughlin is the most decorated female athlete of both the 2008 Beijing and 2004 Athens Games. Coughlin has won a medal in every single Olympic event that she has ever entered, for a total of 11 Olympic medals. In 2008, she became the first American female athlete to win six medals in one Olympiad. She is also the most decorated female swimmer in World Championship history, with 16 medals.