Posted on
November 21, 2011

by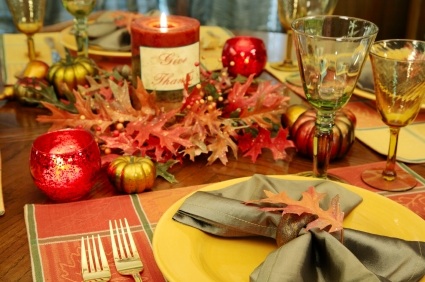 Happy Thanksgiving, Greenists! If you're looking to make your holiday a little greener this year, we have plenty of suggestions for you. Thanksgiving is all about the food — mainly turkey — but you can still give thanks without eating meat if you so choose. Here are some alternatives to the turkey dinner for the meat-avoiders among us:
1. Embrace the season.
When we think of fall food, we think of gourds, nuts, and spices. Why not turn your Thanksgiving meal into a fall festival? There are tons of recipes that involve pumpkin, squash, acorns, veggies, and all sorts of fall goodies. At the very least, you can find some great side dishes to try.
2. Speaking of side dishes…
I've often wondered why we only eat stuffing at Thanksgiving. Stuffing is delicious! So is cranberry sauce! So if you want to avoid meat, why not make a meal out of side dishes only? This is a great opportunity to try some new and interesting stuff, and if you're having a party, you could have everyone bring something different to share.
3. There's always Tofurky.
If you want your meal to have the feel of meat but don't want an actual dead bird on your table, Tofurky is an option. Made with organic, non-genetically-engineered soybeans, Tofurkey makes several products, including deli slices, sausages, links, pizza, and "jurky." It's probably available at your local grocery store.
And if it's just not Thanksgiving to you without a turkey on the table, hey, we're not going to judge. There are greener options you can make with a meat dinner as well — choose a heritage turkey that hasn't been injected with a bunch of foreign substances to make its breast grow bigger, and shop for veggies at your local farmer's market.
What are your suggestions for a green Thanksgiving?