Posted on
June 2, 2011

by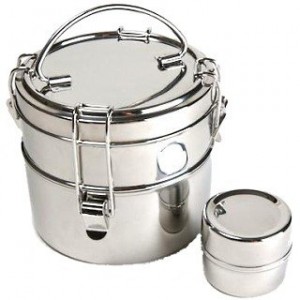 Many of you know I was out of work for quite a long time so when I got a temp assignment in Boston I jumped at the chance to work despite the horrid commute.
As much as I like going out to eat I knew doing so every day would not be conducive to my locavore mentality nor to my wallet. I started bringing lunch every day but putting it into plastic containers really hurt my environmental mind so I sought ways to bring lunch in a container made out of something less toxic.
One day while on said assignment I was perusing The Greenists looking at old posts. That's when I saw the ad on the right for Nubius Organics and their plethora of reusable lunch kits.
After seriously browsing all the choices, I decided on To Go Ware 2 Tier Stainless Steel Tiffin Set. From what I could tell it seemed to meet all my needs. And it does and then some.
First off, I should've measured out how big the round tins are because they are HUGE! Even when I put a decent portion of whatever I'm having for lunch it looks like I'm eating a teeny amount. This is, of course, good because it makes me think I'm eating more than I really am.
The only thing I don't like about the tins is how loud they can be. As someone who cannot stand the jingling of keys or change, the sound of the clanking handle annoys me to no end. I get around this by making sure there is something between the handle and the top of the lid.
Now all I need to get is some of the fancy-dancy Reusable Sandwich Wraps. Feel free to send me some trial ones, Nubius!