Posted on
April 2, 2009

by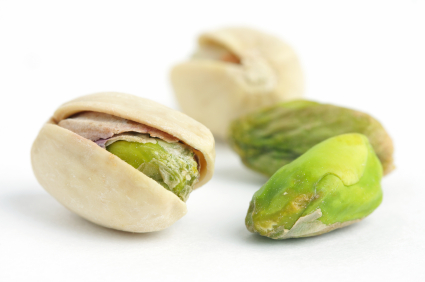 The other day, in comments, Sunshine asked, "Anyway, how does a pistachio get salmonella?"
Good question.  I decided to look up the answer.
While I believe this article from Rutgers is specifically talking about last year's produce outbreaks, the same may apply when it comes to pistachios.
"Possible sources of contamination in the field or packinghouse could include use of contaminated irrigation or wash water (from a bacterially contaminated well or pond), use of improperly composted manure in the field, or handling of the produce by sick field or packinghouse workers. Scientific research has shown that when produce is contaminated, washing with water or treatment with sanitizers may not remove all the contamination."
Roasting, however, should kill salmonella.  According to the AP, the pistachio contamination may have occurred when raw pistachios were accidentally mixed in with roasted ones.
The good news is that there's a new food safety bill in the works, and hopefully, this will limit these kinds of food contimation occurances in the future.  And, despite hysterical e-mails stating otherwise, the new food bill does not mean the government will prevent you from growing your own tomatoes.