Posted on
December 8, 2008

by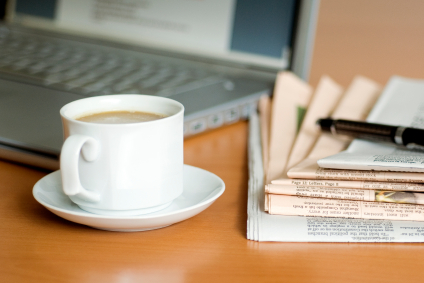 Over the summer we made a lot of frozen yogurt/ice cream, and had a big carton of half & half in the fridge more often than not.  I got in the bad habit of using it in my coffee.  When we stopped buying it, I found that skim milk really didn't cut it anymore, but since my cholesterol levels are not ideal, this was a habit I really needed to break. 
Most non-dairy creamers are full of icky ingredients: partially hydrogenated oils, high fructose corn syrup, and sodium caseinate, a dairy product processed to the point where the FDA has decided it no longer qualifies as dairy (yuck!).
Silk Soy Milk French Vanilla Creamer is a better alternative to non-dairy creamers and the real thing.  At 20 calories per tablespoon, it has 10 calories from fat, no cholesterol, and no saturated or trans fat.
The ingredients are:
Organic Soymilk (Filtered Water, Whole Organic Soybeans), Organic Evaporated Cane Juice, Palm Oil, Soy Lecithin, Natural Flavors, Potassium Phosphate, Sodium Citrate, Tapioca Starch, Carrageenan
It's super good, but I am concerned with the inclusion of palm oil in the ingredients, both for dietary and ethical reasons.  Is it better than drinking half & half or non-dairy creamer?  Yes.  But it's probably not the best option out there.
Enter Wildwood Soymilk Creamer.  WildwoodFoods.com appears to be down at the moment, so I can't link to it, but here's a link to info on the history of Pulmone Wildwood.
I'm not sure if it comes in flavors, but the plain is excellent. It has 15 calories, with 10 from fat and is also free of cholesterol, saturated fat and trans fat.
Here are the ingredients:
Organic Soymilk (Filtered Water, Whole Organic Soybeans), Expeller Pressed Organic Canola Oil, Organic Evaporated Cane Juice, Contains Less than 2% of each of the following: Maltodextrin (from corn), Soy Lecithin, Potassium Phosphate, Sodium Citrate, Natural Flavors, Carrageenan, Organic Tapioca Starch.
Lady saw a documentary about GMO soy awhile ago, and scared me off of anything but organic soy products, so I'm happy that both of these products contain only organic soybeans.
Both products, however, come in cartons with plastic pour spouts.  So, I'm going to take a cue from Fake Plastic Fish, and do a little letter writing.  One to Silk asking them to change their packaging and find an alternative ingredient to palm oil, another to Wildwood, asking them to change their packaging, and third to my local grocery store chain, asking them to carry Wildwood products.
Would it be better to just use milk or drink my coffee black?  Sure.  But I also know the importance of affording myself little luxuries in keeping up my motivation to stay green and healthy on a larger scale.
How do you take your coffee?