Posted on
July 3, 2008

by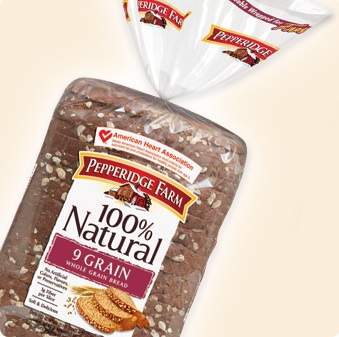 Okay, so here's the first installment of HFCS Free.  If you have a food you love and can't find a good HFCS-free replacement, leave a comment or e-mail me at AlliesAnswers at gmail dot com, and I'll try to find a substitute for you.  I'll put up a new HFCS-free post every Thursday.
Noelle says:
"Bread was and has been the biggest disappointment for me. My grocery store sells a number of excellent local breads, but they don't match the softness of the brand name breads. I'll keep looking, though."
I can't eat wheat, so I eat something called White Rice Loaf, and I wouldn't recommend it, even though it doesn't contain HFCS.  My husband, however, is a wheat-eater.  Sometimes he'll pick up a loaf of bread from the bakery down the street from his office.  In the summer, I buy him bread from the Mennonite bakers at our little local farmer's market.  But it's nice to have a go-to national brand of bread that is free of HFCS & partially hydrogenated oils.
Pepperidge Farm's 100% Natural product line is my pick.  I've never tasted any of the breads, but they get my husband's seal of approval.  100% Natural Breads don't contain any artificial colors or preservatives and come in 100% Whole Wheat, 9 Grain, German Dark Wheat, Honey Flax, and Sprouted Wheat.  And they are available at most major grocery stores.
Enjoy!