Posted on
November 7, 2008

by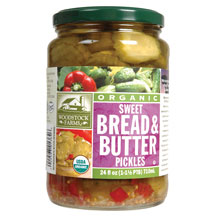 I love pickles.  I can sit down with a little bowl full of sliced pickles and call it a snack.  My favorite sandwich growing up was pickles and cheese and nothing else.  But since I started reading labels more closely, I've realized there are two ingredients in many brands of pickles that I'm not happy about.
Yellow No. 5 (Tartrazine) – While it probably doesn't shrink male organs, as many believe, it is known to exacerbate asthma in some people, and thought to increase hyperactivity in children.  While many people declare it to be perfectly safe, I simply don't need Yellow No. 5 in my diet.  I've never heard of anyone having a Yellow No. 5 deficiency, and I don't need my pickles to be yellow.
HFCS - We all know about this one already.  High Fructose Corn Syrup is often found in sweet or bread and butter pickles.
Next year, I've decided I'm going to learn about canning and make my own pickles, but this year, I'm relying on Woodstock Farms Organic pickles to tide me over.
My current food obsession is their Bread & Butter pickles.  The ingredients are:
Organic Cucumbers, Organic Crystallized Cane Juice, Water, Organic Distilled Vinegar, Salt, Calcium Chloride, Organic Dehydrated Onions, Organic Dehydrated Peppers, Organic Celery Seed, Organic Mustard Seed.
Now, we're not going to pretend these are sugar free.  Organic Crystallized Cane Juice is a fancy name sugar.  But they are HFCS-free, they're a nice, natural color, and they're delicious!  Seriously, the best bread and butter pickles I've tried.
The next time I go grocery shopping, I'm going to pick up some Woodstock Farms sliced dills and some good cheddar for a sandwich.