Posted on
May 18, 2011

by
When you cook something in a casserole dish, what do you do with the leftovers? A few weeks ago, I'd have covered the top of the dish in aluminum foil and stuck it in the fridge so I could warm it up again later. How about if you've got a bowl without a lid that you want to keep something in? Or if you drink half a can of soda and decide to save the rest of it for later? Aluminum foil or plastic wrap to the rescue — but wait! That's just going to create trash! In the words of every infomercial ever created, there's got to be a better way.
And there is! Recently I was given the opportunity to try Rebel T/L/Cs, which stands for tops, lids, and covers. Rebel T/L/Cs are made by Kelli Perez, a mother of two who hand-makes all her products from her home. 
Kelli sews all the covers using 100% cotton woven fabric and food-safe ripstop nylon. They come in all sorts of fun colors and patterns, and you can buy them in various sizes to fit the different containers around your kitchen. When they get dirty, just toss them in the laundry and they'll come out good as new.
I tried out two covers — one is designed for a 9×13-inch pan, but it also happened to fit over a colander I used to store some spinach I picked up at the farmer's market (see above). Not only did it save me the cost of some aluminum foil, but it also really brightened up the inside of my refrigerator.
I also tried a cover sized for a drinking glass or a soda can, which I used to cover a drink I wasn't ready to finish in one sitting.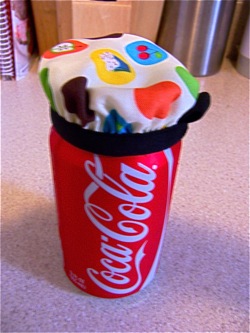 Cute, right? Plus, it's way more portable than toting a roll of foil next time you're on your way to a picnic or a day at the beach. Just snap that cover onto your drink until you're ready for another sip. Plus, it'll keep bugs out of your cup.
I've had my two covers for a few weeks now, and I've already used them several times. If you want to try them, just head on over to Kelli's online store, or "like" her Facebook page. Rebel T/L/Cs are inexpensive, useful, and they cut down on waste — just the kind of thing every Greenist likes to see!