Posted on
February 24, 2011

by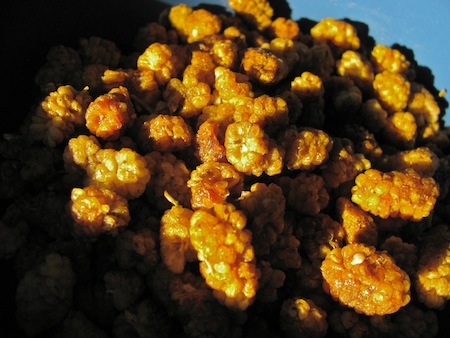 I'm always a little conflicted about the idea of writing a product review, especially if it's an unsolicited product dropped at my doorstep by the UPS guy rather than something I've sought out on my own. But receiving free stuff in the mail is the curse of the Greenist, and I suppose I shall bear it.
The other day, after a barrage of knocks that far exceeded all norms of accepted knockdom, Mr. UPS passed me a box containing a small assortment of items from Navitas Naturals, a California company specializing in "organic and wild-crafted functional foods." The key here, at least to me, is the word "functional," which seems to indicate that their product lineup isn't just knocking off existing food-like products using organic ingredients. Good thing, too, because I'm really not too interested in yet another version of organic cheese puffs because I'm not eating them no matter what they're made of. I prefer to stick to consuming things recognizable as food, and so apparently do the folks at Navitas. Actually, most of the things they sell look more like ingredients than products because they are minimally processed with no unnatural additives.
They decided to wow me with three items: Mulberry Berries (the perceived redundancy of which makes it really fun to say,) Cacao Sweet Nibs (which is even more fun to say, ca-CAO!) and a tube of lip balm labeled as Cacao Power and with no indication that it is actually lip balm aside from the fact that nothing else comes packaged that way. The ingredient list on the lip balm makes me confident that in a pinch I could safely eat it and it might actually taste good (In no way does Navitas encourage this or support my assumption. As a general rule, do not eat lip balm.) Upon application, it smells like chocolate, but not in an overpowering way. It seems to be doing what lip balm does (I put it on when I started typing this,) but it doesn't have SPF (no surprise for a natural and metal-free product) which is what I primarily look for in lip balm. Even so, it'll make a good nighttime stick for those dry winter evenings.
The two actual food products they sent me are great. The cacao nibs are good straight out of the bag, nothing more than busted up chocolate beans with added cane juice and cacao liquor for a little extra flavor. Straight-up chocolate but high in fiber, I also brewed some in my coffee today, a decision I in no way regret and will probably repeat often. They'll make a killer addition to cookies, as well.
The Mulberry Berries (above) are unadulterated. I'd never had a mulberry… berry, and these come all the way from Turkey. Sundried, they're different enough from raisins and other dried fruits to be worth seeking out and they have great texture, featuring just the tiniest bit of a crunch. They look like they'd be seedy and fibrous, but they really eat great. Honestly, my hands keep wandering away from the keyboard to grab a few more.
Most of the products at Navitas are touted as super foods, a bit of license that I don't really buy into. Food is food, but what they offer are real, minimally processed from-the-earth foods sourced responsibly. That's the kind of food I like to eat.