Posted on
April 24, 2008

by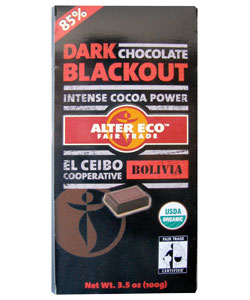 No, I'm not talking about how much chocolate you eat. That's up to you. I'm talking about the kind of chocolate you purchase. Here's why it's incredibly important to make responsible chocolate choices. From Big Green Purse:

". . . cocoa growing is now responsible for 14 percent of the deforestation in the rain forests of West Africa and a large percentage of the deforestation in South America, reports Sierra magazine."
The book says that Americans spend $13 billion per year on cocoa products, but many of the people working on cocoa plantations earn between $30 and $100 dollars a year.  If that weren't bad enough, 40% of all cocoa comes from the Ivory Coast, and is about 35% of the export income from that region.
"This money does not come morally. Hundreds of thousand of children are enslaved on cocoa farms, reports the U.S. State Department. Since a military coup in 1999, Ivory Coast has been wrenched by political instability and, more recently, a civil war that both sides fund through cocoa sales. "
The bad news is that what Big Green Purse calls "blood cocoa" is imported into the U.S. and Europe by the major chocolate brands you're probably used to purchasing.
The good news is that by purchasing Fair Trade Certified chocolate, you are making a responsible purchase that supports fair labor practices, and more sustainable farming. The best way to go is buying chocolate and cocoa that is certified organic AND Fair Trade Certified. Then you will know that the cocoa used in making your chocolate was grown free of pesticides, which is better for you and the environment.
Go for quality, not quantity when it comes to chocolate, and you won't notice the difference in price. A few squares of really good chocolate is more satisfying than a whole bag of M&Ms anyway.
I've tested a lot of Fair Trade chocolate for this site (What I don't do for you people!). My all time favorite is AlterEco Dark Blackout Chocolate.  AlterEco makes great milk chocolate too, if you're not into dark chocolate.

Excerpted with permission from Diane MacEachern, author, Big Green Purse: Use Your Spending Power to Create a Cleaner, Greener World,  www.biggreenpurse.com.Want to get your hands on a copy of Big Green Purse? There's a givaway!Sign in with a valid e-mail address to comment on the Big Green Purse Tip of the Day posts from Monday, April 21st through Friday, April 25th. For each comment, you'll get an entry (one per day, please). The giveaway will close on Sunday, April 27th, at noon (Eastern), and I'll draw a name out of a hat to determine the winner. The winner will be announced on Monday, April 28th. Comments that appear to be spam will not be counted. Good luck!
CONTEST CLOSED — SUNDAY APRIL 27th