Posted on
July 8, 2008

by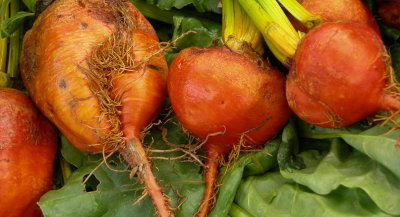 There was this girl I went to elementary school with, we'll call her D.  D and I were on the same school bus, and even though we weren't really friends in school, we both took the very back seats on the bus on either side of the aisle and pretended we were on spaceships together every day on the way home from school.  One of the seats had a big gash that was held together with duct tape and an old band aid, and the person who got on the bus first took the non-band aid seat.  I almost always got the band aid seat, but I didn't care.  I was in awe of D.  She was totally hyper and so much fun.
One day, from her back seat, while steering her spaceship, she sang, "Beet, beet, beet, suuuugar beet, beet, beet," over and over and over again until I laughed so hard I almost wet my pants.  I'm pretty sure it wasn't a real song, just babble.  I have no idea why she was singing it, or why I found it so incredibly funny, but even though it happened over 20 years ago, I remember it clearly.  Now, I sing that song in my head every time I make beet salad.
Here's the recipe.  When you make it, you have to sing the beet song in honor of D and all her hyper awesomeness.  Make up your own tune.
From Farmer John's Cookbook, via last year's CSA newsletter:
4 medium beets, peeled, coarsely grated (3-4 cups) – if you have a mandolin grater, it works great, otherwise just use the coarse side of a cheese grater and WATCH YOUR KNUCKLES (not that I've ever grated mine or anything)
1/2 cup olive oil
3 tablespoons white wine vinegar
1 tablespoon finely chopped shallot
1 teaspoon prepared Dijon mustard
1 small clove garlic, minced or pressed (1/2 teaspoon)
salt
freshly ground black pepper
1-2 tablespoons finely chopped fresh dill
Put grated beets in a large salad bowl
Combine the olive oil, vinegar, shallot, mustard in a large jar.  Make sure the lid is tight and shake like crazy until the mixture thickens.  This is a great time to sing the sugar beet song.
Pour dressing on shredded beets and toss.
Add salt and pepper to taste
Cover and leave in the fridge for 1 hour
Add fresh dill and give it a good toss before serving
It's great as a side dish, or on salads.  The recipe recommends serving it over cottage cheese, but something about that feels wrong to me.  Usually, I eat it straight out of the bowl and don't even wait for it to chill.  It's that good.