Posted on
January 21, 2008

by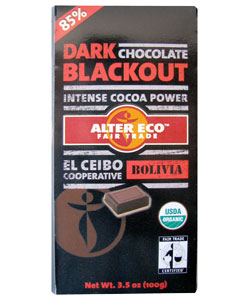 My husband and I are couple of chocolate junkies, I tell you, and the darker the better.  About a month ago, we were on a quest to see just how high we could go with cocoa percentages.  This was the winner.
Alter Eco Dark Blackout Chocolate has a minimum of 85% cocoa in it.   This chocolate isn't messing around.
It's smooth and definitely only takes a square or two to satisfy even the worst chocolate craving, and it doesn't have a bitter aftertaste like a lot of other super dark chocolates.  This is on my buy again list.
Plus, it's USDA Certified Organic and Fair Trade Certified.  And Alter Eco is an awesome company.
"All of our chocolates are Fair Trade Certified™. This means that the farmers who grew the ingredients were paid a better, more stable price for their crops than in conventional trade. In order to help the farmers sell directly, the El Ceibo cooperative has invested, with the help of Alter Eco, in equipment to process and transport their cocoa. By selling on Fair Trade terms, the farmers are able to invest in high-quality production, increase their incomes and improve their living standards. El Ceibo benefits 800 families in the Bolivian Amazon."
If you're into dark chocolate, this is one to try.