Posted on
January 28, 2008

by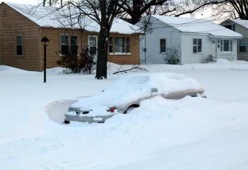 I'm sure you know that running your car to defrost your windows is a waste of gas.  Still, that doesn't mean it's fun put in time with an ice scraper in the morning.  What if you could stop the ice before it started?
According to Niagara County Recycling, vinegar can help save you a few minutes in the morning.
"When you have to leave your car outside overnight in the winter, mix 3 parts vinegar to 1 part water and coat the windows with this solution.  This vinegar and water combination will help keep windshields ice and frost free."
Make sure to dilute it.  I've been doing some reading on using vinegar as windshield wiper fluid (I'm still not totally sure it's okay) and some reports say that straight vinegar can be too acidic and may damage your wiper blades and window seals.
Of course, if your car looks like the one above, I'm sure vinegar won't help much at all . . .