Posted on
May 17, 2012

by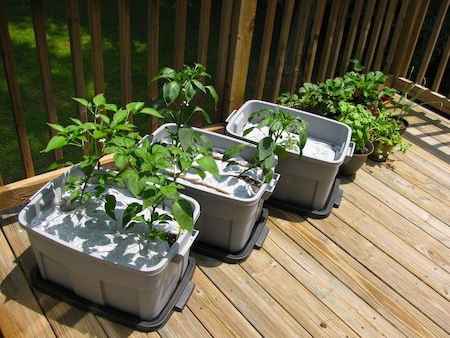 We talk pretty big around here, even if we do tend to focus on the smaller things that each of us can do to minimize our impact on the planet, and I've always been bothered by an inability to actually do a lot of the things we encourage on these here electronic pages. You see, for basically all of our adult lives, the lady and I have been what you'd call renters, a species saddled with severe limitations on the influence they have over their immediate surroundings.
That changed just this month, however, when we moved the detritus of our lives into a modest home in the suburbs. When the plumbing goes wrong, we get to fix it (a fact we've already confirmed.) But this also means we get to take a stab at turning our little slice of Georgia into an abode worthy of The Greenists.
What we've done so far:
Planted edibles. This actually started a month before the move so we'd have a head start. At the end of March I constructed an Earthtainer, a tomato planter made of plastic storage bins designed so that virtually every drop of water that goes into the system is utilized by the plants. That sucker's six feet tall already. Once we moved in, I decided to stick with container gardening until we're sure where the best sunshine is in the yard. Aside from the tomato plants we've got peppers, cucumber, zucchini, strawberries, garlic, cilantro and basil. I've put an inordinate amount of scheming into these future vegetables, so I really hope they work out.
Changed out some light bulbs. Somebody in this home's past was really into dimmer switches because there's one on virtually every light. This is problematic because standard CFLs don't do dimmers. Enter the LED. Obviously the future of lighting, LEDs are still somewhat expensive. Enter The Home Depot. HD has a two-pack of LEDs for $10, which isn't bad at all if they last 20+ years as advertised while barely sipping the juice. We got some. They're awesome. Can't wait to have them everywhere, but that'll take a little time in our case (unless Home Depot will entertain a tomatoes-for-LEDs trade.)
Installed an attic vent fan. This was my big "ME MAN- ME USE TOOLS" project to get the ball rolling. Roofs are good for keeping the rain off, but they also trap some insanely hot air under them when the sun gets cooking. The gable-mounted vent fan kicks on when it hits 105 up there, blowing the hot air out. Should keep the house a bit cooler and save us money.
Opened the dang windows. The way these windows were sticking, it's pretty clear the previous owner wasn't a big "air it out" type of guy. Some people just don't bother to open their windows even if it means letting the AC run when it's 70 degrees out. One of the things we most looked forward too after living in a windows-on-one-side apartment was the simple ability to create cross-ventilation, and it has been glorious.
Started composting. There were two plastic garbage cans here when we moved in, plus a recycling bin. I figure between recycling and composting we actually won't have very much garbage, so I repurposed the second can as a compost bin. We'll probably outgrow that soon enough, but in the meantime I drilled some holes in the sides and am taking strange delight in the simple act of throwing vegetable scraps away.
And I'm proud to say that I've already plumbed the Greenists archives for a few pointers here and there. Anything else we should be doing in the short-term?