Posted on
February 24, 2010

by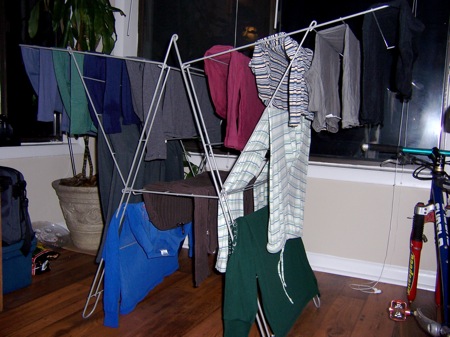 It's easy to line-dry your laundry in the summertime. If you've got an outdoor living space with a clothesline, and it's sunny, warm and a little breezy outside, forget about it. Your laundry will be dry in way less time than it would take in the dryer.
But what do you do during the winter? If it's cold and gray outside, your clothes will take forever and a day to dry. You could set up a clothesline inside, but there is another solution that is easier than stringing twine all over the place. That solution, my friends, is the drying rack.
The one you see above is the FROST drying rack from IKEA, and it costs $19.99. It holds a ton of laundry and, best of all, it collapses flat when not in use and slides right into a closet or under the bed. It's perfect for small living spaces. What I typically do is let my clothes air-dry on the rack until they're almost completely dry, then pop them in the dryer for five to 10 minutes to get the wrinkles out. The effect is exactly the same as if I'd used the dryer exclusively, except my clothes last longer because they're not subjected to all that heat and agitation. My power bill has also gone way down since I cut back on the dryer use.
The dryer is the second-biggest energy hog in your household, right after the refrigerator. Cutting down on the amount of time you use it is a great way to put a dent in your power bill. You won't even see much of a difference in efficiency between old dryers and new ones; the technology just has not changed much, and that's why dryers are not Energy Star-rated (though some of the newer ones do come with moisture sensors that automatically shut off the machine when your clothes are dry.)
But honestly — clothes dry on their own. It's not necessary to use your dryer unless you need your clothes to dry quickly. It may seem weird to dry your clothes on a rack at first, but before you know it, it'll feel like second nature. It's a great example of how a small change can make a big difference.