Posted on
March 18, 2010

by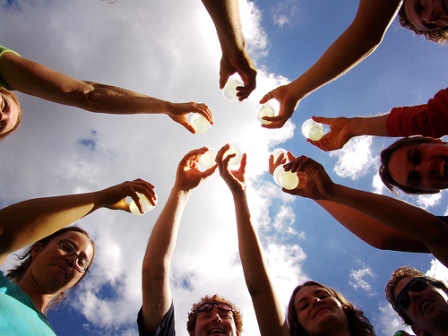 Photo courtesy of marie-II
Are you a New Year's resolution maker? Yes, yes, I do realize it is March, which probably seems like a strange time to be asking about New Year's resolutions. But judging by the thinned out crowds and significantly emptier parking lot at the gym recently, March is about the time a lot of people abandon their New Year's resolutions. So maybe that means March is a perfect time to revisit your resolutions or, if you didn't make any a few months ago, time to start setting some.
The dead of cold, bleak winter has always felt like the wrong time to be thinking positively of starting over and new leaf turning anyway. I've always thought it would make more sense if New Year's came in the spring. After all, it's easier to think of turning new leaves when the trees are about ready to start budding some, easier to imagine a better life and new beginnings when we can see the proof-of-starting-over in the trees and world around us. Besides that, my birthday is in spring. (My birthday is today, actually!) And even if this isn't the season you mark another year on the planet, it's a perfect time to think about the mark you leave on it.
Big changes often come from a lot of little ones, and where resolutions are concerned, smaller can be better. Small changes are more manageable, small habits easier to adopt. And making small changes that lead to a greener life is pretty much what The Greenists is all about.
So here are some of the small things I do as part of my continuing resolution to live a greener life. Most of these are related to cleaning, that being my Greenists beat and all. I know none of these are new or brilliant; I hope most are things you're already doing too. But if you're still in the early stages of greening your everyday routine, simple resolutions like these are an excellent place to start.
In the laundry room, resolve to…
Wash clothes in cold water, and air dry as many of them as possible. I use a drying rack much like Courtney's for shorts, tanks, and various unmentionables, and I put shirts and jeans on hangers and dangle them from a water pipe in my laundry room. (Unfinished basements have their advantages! If your pipes are neatly hidden away between your floorboards and ceiling, however a garment rack or retractable clothesline would work just as well.)
Ditch the bleach and keep your whites white and your colors bright with vinegar, borax, or oxygen-based bleaches like OxiClean instead.
Save water and energy by running your washer only when you've got a full load. (Same goes for your dishwasher, too, though you probably don't keep that in the laundry room. Let's move on to the kitchen, shall we?)
In the kitchen, resolve to…
Protect your microwave from spatters with a washable, reusable splatter guard, rather than paper towels.
Repurpose rags as napkins, or make your own cloth napkins from fabric scraps or old oxford shirts, rather than using paper napkins or towels.
Use washable sponges, or sponges made of biodegradable, renewable materials. (Better yet, don't use sponges at all… for nine cleaning jobs out of ten, a rag works just as well!)
Invest in a mop with a microfiber head that you can toss in the wash and reuse indefinitely, rather than disposable sponge mop heads or sweeper cloths. (I am a recovering Swiffer addict, and my O-Cedar Microfiber Performer is helping me kick the habit for good.)
Recycle old toothbrushes to scrub small areas like the lines around your sink (also great for bathroom grout and countless other areas in your home).
Elsewhere at home, at work, and on the go…
Switch to bar soap. I like to buy hand-made soaps in lovely scents at craft sales and boutiques. They are almost never sold with any more packaging than a strip of paper around them, and when I buy them, I'm supporting a local crafter as well. But grocery stores and big box retailers have plenty of natural, eco-friendly options too. I just bought a Burt's Bees Rosemary Mint bar at Target that I can't stop picking up to sniff and sigh.
Don't reach for a new cup every time you want a drink. When I'm out and about, I have a reusable water bottle, of course, but at home, a cup of water seems simpler. I use the same cup for several days before I figure it needs washing, and I just stash it in the fridge to keep it off the countertop (and keep the water in it cold) when not in use.
If you've got too many people in the house or your standards of cleanliness are too stringent for that last tip, you can at least cut down on the water you waste by dumping whatever's left in your cup in a nearby plant. (That tip almost seems too ridiculous to share, but I have been doing it ever since I read it on a different blog years ago, and some weeks it's the only way my plants get any water, I fear.)
Bring your own hand towel to work, to cut down on your paper towel use there. You could get yourself a fancy People Towel designed specifically for away-from-home use, but a regular tea towel hanging from a magnetic clip under my desk works just fine for me.
So there's my list… a small sampling. What are some of the favorite small steps you've taken as part of your larger resolution to live a greener life?