Posted on
April 20, 2010

by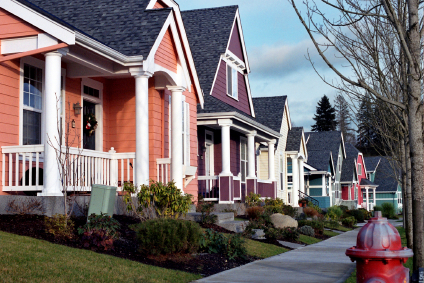 The following is a guest post from Steven Matthews.  If you'd like to guest post at The Greenists, e-mail Courtney at TheGreenists dot com for more information.
Nowadays, everyone wants to go a little "green," especially in their homes.  Not only does greening your home help the environment, but it also saves you money in the process.  "Green" homes are in demand now more than ever, so when it's time to sell your home a more energy efficient choice is always better for buyers.
Whenever a client of mine is getting ready to sell their home, I tell them to take some simple steps to make their home more eco-friendly.  It will make the home more attractive for perspective buyers.  Alternately, when a client of mine buys a home, I give them simple tips to make their home more eco-friendly, which can save them a lot of money over the years in utility bills.
Below are a few tips that you can take to be a little more green at home:
Look to see how old your window air conditioning units are, newer models are more energy efficient and will cut your electric bill.
If you have a central air conditioning unit, be sure to change the filter once a month (when it's in use).  Clogged filters make air conditioning units work harder and use more energy.
Paint with non-VOC paints.  Not only are these types of paints better for your health and the environment, but since these paints are not deemed hazardous waste, disposal is simplified.
Flooring:  When it's time to remodel your home consider refinishing your existing hardwood floors instead of installing brand new ones.  Not only will you be saving trees, but you'll also be lowering your carbon footprint if you don't have to transport wood.
Install a storm door.  This will help to seal the house against changing temperatures while allowing natural light to illuminate your home during the day.
Energy star appliances.  Not only do these government-backed appliances help cut greenhouse gas emissions (Americans, with the help of ENERGY STAR, saved enough energy in 2008 alone to avoid greenhouse gas emissions equivalent to those from 29 million cars ) but it also cuts back on your utility bill per month.
Change your shower head to a more energy efficient model.  You'll save water and notice a drop in your water bill.
Keep your blinds open year-round.  You'll be using the natural sunlight instead of bulbs.
During the winter months, open up the blinds on the side of the house where the sun rises.  This will allow the sun to help heat your house naturally.
Change your light bulbs.  Compact Fluorescent light bulbs (CFL's) uses about 75% less energy than the traditional light bulb and last 10 times longer.
Earth day falls on April 22nd, this year, take some steps to "green" your home.  You'll be helping the environment, and saving yourself some money in the process- now that's some green that we'd all love to see!
Steven Matthews is a full time, full service residential real estate professional serving the Montclair Area and surrounding Essex Country, Matthews is recognized as a national "top producing REALTOR."  In addition to a New Jersey Real Estate License he also is a certified as a Green Real Estate Specialist, Seniors Real Estate Specialist, LGBTI Real Estate Specialist, Certified Residential Marketing Specialist and Certified Relocation Specialist.