Posted on
January 27, 2010

by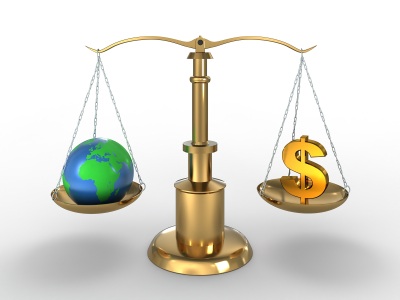 As you know, tax season is upon us. I used to love doing my taxes, back when things were simpler and I got a refund check in the mail. It was like Christmas! Now, thanks to my multiple freelance writing/editing jobs that make me pay Uncle Sam in one lump sum, I now lose a lot of money at tax time, which makes it … well, like Christmas.
But that's not the point of this post. The point is to inform you about how being green, once again, can help add a little padding to your wallet — this time in the form of tax credits.
Making energy-efficient improvements to your home can be expensive, but those costs can be offset if you file for a tax credit. The American Recovery and Reinvestment Act makes it possible for homeowners to get back 30% of the cost of qualifying home improvements, with a cap of $1,500. Qualifying improvements include added insulation, energy-efficient exterior windows, and heating and air-conditioning systems.
How can you make sure if your improvement projects qualify for the credit? They have to have been made in 2009 if you're going to claim the credit now — projects done in 2010 will have to be claimed during tax season 2011. It's up to the manufacturer to certify a product for the credit, which means you must save your receipts and certification statement from the day you purchased your new water heater, for example.
Just because something is Energy Star-rated doesn't necessarily mean it's going to qualify for the credit, so look carefully when you're shopping around.
If you've gone big with your energy efficient projects — to the tune of a wind energy system, solar water heater, or a geothermal heat pump — there's another credit in store for you. You can get back 30% of the cost of those projects, including what you paid for installation and site preparation. There is no cap on the amount you can receive.
There may also be a tax credit in store for you if you drive a hybrid or plug-in electric vehicle — but not all of them. The credit phases out after the manufacturer sells 60,000 hybrids. If you bought a fuel-efficient car in 2009, check with your dealer to see if you're eligible for a credit.