Posted on
April 29, 2010

by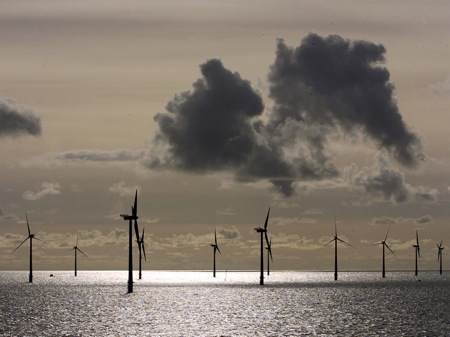 Image credit: Herbert Proepper/AP
The Obama administration has given the green light for an offshore wind farm to be built off the coast of Cape Cod, Massachusetts. Once built, 130 wind turbines will stand in the water and harness the power generated by the stiff winds coming into the coast, tapping a clean, reliable, renewable energy source.
But is this a good idea or a bad idea, environmentally speaking? Let's take a look at the pros and cons.
Let's start with the cons:
It's not exactly cheap — estimates put Cape Wind, as the project is called, at $1-$2 billion.
It would alter (some say ruin) the view from certain seaside spots in Cape Cod.
The wind turbines would disrupt marine life and possibly endanger birds.
Some predict it will open up the wind power industry to more lawsuits and setbacks.
Two Wampanoag Indian tribes have claimed the wind farm would disrupt one of their sacred rituals, which includes an unblocked view of the sunrise over Nantucket Sound. Also, the turbines would be built on top of ancient tribal burial grounds, which have long been submerged.
And now, the pros:
Cape Wind could provide three-quarters of the power supply to Cape Cod's 225,000 residents.
It could start generating power as early as 2012.
It will create green jobs in the area and possibly provide a jump-start for more wind farms nationwide.
The closest turbine to the shore would be five miles offshore, meaning on a clear day, the turbines would be about a half-inch tall on the horizon from the closest point on the shore, and only visible as tiny specks from Nantucket.
Nothing is final yet — there are likely many more court battles to be waged before any turbines go into place. Politics aside, the real question for environmentalists is: Do you support this? The disruption to marine life and birds is a valid concern, environmentally speaking. On the other hand, more energy produced by wind means less drilling for oil and fewer mountaintops being blown up to get to the coal inside. As with all environmental issues, there is always a trade-off.
Wind is a clean, renewable energy source — that is a fact. But do the pros outweigh the cons? Even if they do, are the cons too big to ignore?
I've tried to keep this post focused on the environmental aspects of this wind farm, but the politics are inextricably intertwined with Cape Wind, and I want to open up the comments to any and all views on this. Please leave us a comment explaining your feelings on Cape Wind.