Posted on
July 3, 2012

by

The Greenists are on vacation.  Please enjoy this recycled post!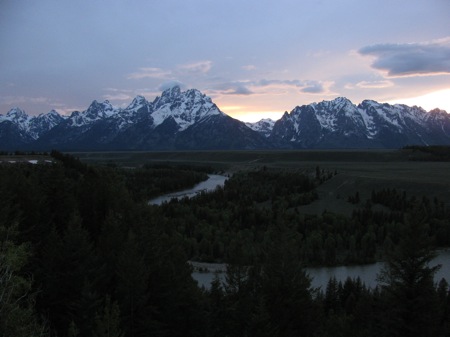 I have often boiled down my love of the American west to one sentence: I need a big backyard. Of course, in my case this has nothing to do with any sort of desire for a lavish hot tub-waterfall-swimming pool combo or my own personal putting green. The backyard I refer to are the millions of acres of public lands that make up the western US. Nothing less will do.
But what are public lands? In short, they are the places administered by the federal government for the use of the people. Duh. Beyond that, though, it's not so simple since public lands run the gamut from the cathedral-like Sequoia groves of Yosemite to bulldozed clearcuts in a national forest near you. Both of them belong to you, dear reader, unless you are not an American taxpayer, in which case I'm sure you should have no trouble at all inserting your own local examples. Basically, the government (by the people, right?) owns a whole bunch of land and designates it for things like preservation, recreation or resource extraction, sometimes all three at once.
I happen to live on public land. Come to think of it, I also live in a public cabin and sit on public furniture. The toilet belongs to you, the public, too. It's a public toilet that's not a public toilet, I guess. Thanks for that one especially. As a representative of the National Park Service, I've had plenty of time to familiarize myself with the particulars of the National Park System, most notably that which goes on beyond my public front door. Everybody knows their names: Yellowstone. Yosemite. Grand Canyon. Congaree. (No on that last one? One of our newest national parks, it's a swamp in South Carolina.) And everyone probably knows that there will not be a brand-new mixed use high rise with street-level shopping and a twelve-screen theater going up on the shores of Yellowstone Lake any time soon. That's the point of a national park.
Funny thing, though: There already are two hotels, three campgrounds and multiple restaurants on the shores of Yellowstone Lake. I doubt you're shocked by this, but it underscores the dilemma of the parks as stated in the bill that created them: "to conserve the scenery and the natural and historic objects and wildlife therein, and to provide for the enjoyment of the same in such manner and by such means as will leave them unimpaired for the enjoyment of future generations."
To both conserve and provide for the enjoyment. Yikes. That's a tall order. But it's also why our parks cater to tourists on the order of paved roads, bathrooms, viewing platforms at all your favorite vistas and behatted rangers greeting you with a smile. Sure, everything beyond the edges of the parking lot generally sticks to the conserve motif, but don't forget to buy a t-shirt and a DVD before you venture out.
No, I'm not really that cynical. I love the parks or else I wouldn't put on the green and gray every day. They are the showpieces, the places to rope in the RVers and get them on our side. I'm merely using national parks as one example of public lands here in the US and to point out that they are not the end-all of conservation efforts in this country. I'm not sure what the end-all is, but I'd like to contrast parks with another idea: Wilderness Areas. While parks, such as the one I'm sitting in right now (on my public chair; it's Grand Teton, by the way), are managed as de facto wilderness beyond the hotels, visitor centers and marinas, the Wilderness Act of 1964 provided for the establishment of dedicated wilderness areas by act of Congress. By definition, they are restricted to scientific study and non-mechanized recreation. No motorized vehicles. No roads. Period.
I visited the Bridger Wilderness this weekend, which is located in the Wind River Mountains of Wyoming and administered by the Bridger-Teton National Forest. I drove there, of course, but the actual wilderness boundary is a couple miles up the trail. No roads, see? No crowds, either. A well known destination to backpackers, climbers, and horse packers, the Winds are populated by only those groups. There are no short hikes, no paved scenic overlooks, and there is no office of public relations. Because of the lack of advertising, difficult access and resulting lack of traffic (relatively speaking), there are no permits required for camping, no entrance fees and no one to hear you scream. Simply put, the people police themselves in a wilderness. Freedom. Sure, there is no gift shop where you can buy a poster of what you just saw, but that's why I brought my camera.
I love Grand Teton, and I love the Winds. Put the two together, add in the couple million acres of public land in between them, and what I have is one great big backyard. They have different rules and attitudes, but they are there for all of us to enjoy, taxpayer or not. I can shoulder a backpack and strike out from the public front steps of my public front porch and walk for weeks without ever seeing a "no trespassing" sign. That's my kind of yard.