Posted on
October 26, 2010

by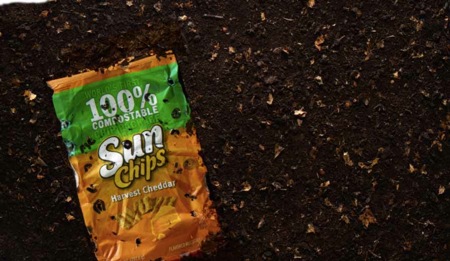 Image credit: current.com
A couple of weeks ago, The Greenists launched a campaign to save the SunChips bag. In case you've forgotten, here's the gist: We were big fans of the biodegradable, compostable bags SunChips used to offer in place of plastic bags. Unfortunately, a lot of people did not agree. The bags made of plant-based materials were more crinkly and crackly than plastic bags, which some people found unacceptable. A lot of these people contacted SunChips to complain, and in response, SunChips decided to go back to plastic bags on all varieties of their chips except one.
Well, we think that is unacceptable. Because we would rather listen to a noisy chip bag than live with the knowledge that more and more plastic bags are going to litter our planet, The Greenists launched a campaign to save the biodegradable SunChips bag.
I'm pleased to report that in less than two weeks, we've banked 89 signatures on our online petition, and our Facebook cause page has 27 members! We'd really appreciate it if you'd consider taking part in both. When we have enough supporters, we'll contact Frito Lay (which owns SunChips) and show them that we still prefer compostable bags over plastic ones, even if they're loud.
If you're on the fence about this, please consider a simple cost vs. benefit scenario. Are the bags loud? Yes, they are. That's the cost. But ask yourself: How much does that affect your daily life? Probably not much, and probably not any more than a regular plastic chip bag does.
But the benefit is that if SunChips goes back to the biodegradable bags, that means millions fewer plastic bags sitting in our landfills for decades after you finish those chips. Plus, plastic bags are made from oil, which is a non-renewable resource that is pumped out of the ground (and sometimes spills into our oceans), while the biodegradable bags are made from plants grown in the sunshine. The process requires less energy and it doesn't deplete our non-renewable resources.
In my opinion, the benefits greatly outweigh the cost. Do you agree?