Posted on
September 17, 2010

by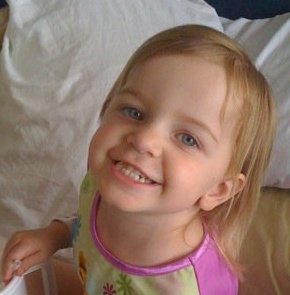 The following is a guest post from my friend, Andi, the owner of Good Things Green Things.  I am so inspired by her efforts to help Audri, and asked her to share a little about her fundraising project.
September is Pediatric Cancer Awareness Month. Cancer is the leading cause of death by disease in children under the age of 18 in the United States. One in every four elementary schools has a child with cancer, and the average high school has two students who are current or former cancer patients. We all know, or have know someone with cancer. Both my parents are cancer survivors, and I've lost two friends to the disease. Cancer is hard for everyone no matter the age, but it breaks my heart to see so many young children being diagnosed with it.
I came across Audri's story on Facebook through a link on a friends page. The first thing I noticed about Audri were her big, beautiful blue eyes, and her sweet little smile. She reminds me a lot of my little girl Taylor, and they are just a few months apart in age. I was so sad to read Audri's story and learn about her diagnosis of Embryonic Rhabdomyosarcoma. It is a very aggressive form of soft tissue cancer, and it requires very aggressive treatment as well. Audri was diagnosed on April 15, 2010 at the age of 2, and started her treatment the next day. She will continue her treatment throughout the next year, and sometimes has to stay in the hospital for 5 days at a time. Audri's mom, quit her job to be with Audri during her treatments. Audri is an amazingly strong, little girl and  is fighting like made to beat this disease. It's always great to read her updates on her Facebook page, and hear how well she is doing.
So this month at Good Things Green Things, it's all about Audri. September 1st through the 30th, we are donating 50% of candles sales and 25% of all other sales to Audri's charity www.ladybughugs.org.  We have four new soy candle blends for you to try, and a few gift baskets that provide a 50% donation to Audri's charity. I hope that you'll stop in a do some shopping on Audri's behalf. If you don't need anything from the store but you still want to help, you can go to www.ladybughugs.org to make a donation. If you can't help right now, but would like to keep up with Audri's progress, you can stop by  Audri's Facebook Page to offer words of encouragement and prayers. Thank you so much for your support. It is greatly appreciated!