Posted on
September 22, 2010

by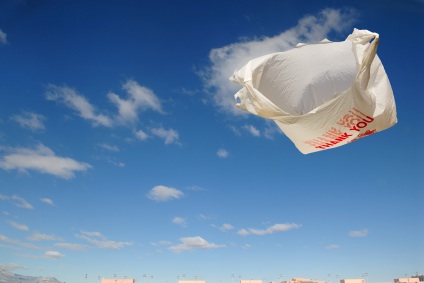 Remember when we talked about the possibility of a plastic bag surcharge in grocery stores? A few cities have floated the possibility and a few have enacted a complete ban on these flimsy, disposable bags that seem ubiquitous in stores. Others have imposed an extra charge for the bags in an effort to make people consider using reusable bags for their groceries.
You may wonder how these environmental initiatives have turned out for those cities. I'm pleased to tell you that in Washington, D.C., where there's a five-cent tax on plastic shopping bags, their use has declined by more than half.
The Wall Street Journal reports that this small penalty has led to big change. No one quite expected such a sharp drop in plastic bag use, but it turns out that when people are faced with paying extra for something, they'll make changes. And when those changes also benefit the environment, everybody wins. (Except, of course, the companies that manufacture plastic bags.)
It's pretty amazing that something as small as a nickel per bag can make such a huge difference. In D.C., one penny of the five-cent surcharge goes to pay for the bag, while the other four cents go into a fund to clean up the Anacostia River. Other places have gotten wind of the success of the surcharge, too — Brownsville, Texas, is charging people an extra dollar for each transaction that requires a disposable plastic bag, and American Samoa is imposing a full-on ban starting next year.
What do you think of a plastic bag surcharge? Would you support it in your town? If so, how would you go about getting a plastic bag tax in place?