Posted on
November 10, 2010

by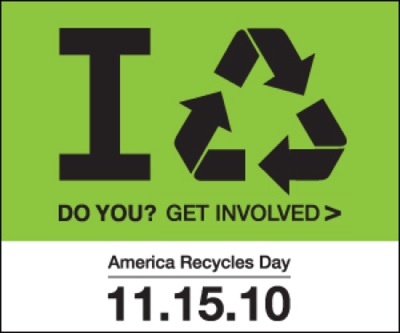 Image: www.kab.org
Ask someone what the first step is to going green, and chances are they'll reply, "Recycle." That's pretty much a given, right? Even people who aren't overly concerned about being green in other facets of their life may toss their plastic bottle into a recycling bin rather than the trash.
But did you know that there's a right way and a wrong way to recycle? With America Recycles Day coming up on November 15, now is a good time to consider what you throw into the recycling bin. Just because it's in the bin doesn't mean it gets recycled, and if you throw stuff in there that shouldn't be in there, you're putting unnecessary strain on the system and causing it to lose efficiency.
The first step to being a good recycler is to look up your local recycling facility. They should have a detailed list of what can and can't be processed there.
With that in mind, here are some pointers to remember when you're recycling:
Paper:
This is very important: DO NOT put anything in the recycling bin if it has food stuck to it. This goes for pizza boxes, fast food containers, and anything you've used to mop up spills. Food particles will clog up the system and force items to be thrown in the garbage when they could otherwise be recycled. If your pizza box has cheese stuck to it, and it probably does, you should throw it in the trash.
Same goes for tissues, toilet paper, paper towels, and anything else with any sort of residue stuck to it.
Construction paper and wax or coated paper, when mixed in with regular paper, could ruin a batch of recycling. Stick to notebook paper, printer paper, and envelopes. (Don't worry about tearing the clear plastic window out of an envelope — that small bit of plastic isn't going to hurt the recycling process.)
You can also compost certain types of paper, including newspaper (but not magazines — the ink may be toxic.) Do your research before tossing anything into your compost bin.
Plastic:
There are lots of different types of plastic, so check with your local recycling center to see which types are accepted. Each plastic type has a number that you can see within the recycling symbol on the product, the three arrows in a triangle. Don't toss all plastics into the bin unless they're all recyclable in your community; otherwise you're just creating more work for someone else.
Remove twist-off caps and rings from plastic bottles. They're not recyclable.
Always rinse out plastic containers before tossing them in. Not only does this remove food particles that can clog the system, it keeps the bin from getting stinky and attracting pests.
Plastic grocery bags and produce bags should be recycled at your local grocery store. If there's not already a bin outside to collect these bags for recycling, ask the store manager to consider putting one out there. Better yet, get some reusable bags and forget about the plastic ones altogether.
Metal, including aluminum:
Aluminum and tin cans are pretty much ubiquitously recyclable, so you're probably good here. Just remember to rinse out the cans and remove any labels if you can.
It's also a good idea to flatten aluminum cans — your bin doesn't fill up as quickly if you do.
Glass:
Check to see if you need to sort glass by color.
Rinse everything out thoroughly.
Mirrors and old drinking glasses don't go in the recycling bin. Neither do light bulbs, which should be taken to Lowe's or Home Depot for proper recycling.
Cardboard:
Cardboard is another thing that is recyclable pretty much everywhere. Just flatten the box and make sure there's no food or grease stuck to it.
Your turn! What are your handy recycling tips?