Posted on
September 15, 2010

by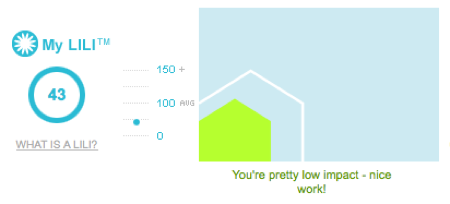 Being green often is a matter of degrees — there are some people who believe they're living green but do barely anything to reduce their footprint, while there are others who are constantly finding ways to lessen their impact even though they're already living greener than most other people. Sometimes I wish there were a way to quantify everything we do and everything we possibly could do to make or lives greener. That way, we'd have an idea of what kind of impact we're really making, and how we can keep improving our lifestyles.
Turns out, my wish has been granted! Recently I discovered Low Impact Living, a website that surveys your habits and living situation and assigns you a LILI (Low Impact Living Index) number. The survey asks you about what kind of home you have; what kind of appliances you have, how old they are, and how often you use them; how many vehicles you have, their make and model types, and how much you drive; your recycling habits; and a few other things about your lifestyle. Then it will give you a score between 0 and 150 rating your impact level — the higher your score, the higher your impact. You want this score to be as low as possible.
Along with your score comes a list of ways to decrease your LILI number — things like installing low-flow toilets and programmable thermostats, replacing your appliances with Energy Star ones when they bite the dust, and composting your food waste. You can save your profile and come back to check things off the list as you accomplish them, and your LILI score will go down as your life becomes greener. It's a great visual way to assess how you're living and gauge the effectiveness of your actions.
My LILI score is 43. I live in an apartment, so I have no control over the kind of appliances the apartment complex provides for me and I can't go planting trees outside. But I can do things like use biodegradable detergents (which I do) and install a low-flow showerhead (which I should do). My score is well below average, which makes me feel good about myself, but I love that Low Impact Living provides me with a to-do list of things I could still do to live greener.
What's your score? What's first on your list to lessen your impact?