Posted on
November 15, 2011

by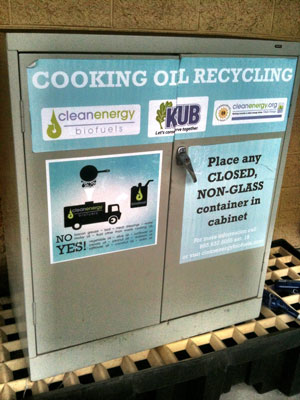 Recycling cooking oil is something I think maybe I heard about a while back and tucked back into the recesses of my brain, filing it under 'interesting concepts that I'll never have the opportunity to employ,' and then forgetting about it. It seemed like a great concept for restaurants that use a lot of oil and produce a lot of grease, but I had no reason to believe I'd have the opportunity to recycle the small amounts of cooking oil that I use.
Just the other day I was shopping for a Thanksgiving turkey at our local Earth Fare restaurant, when I noticed the above bin outside. It's a cooking oil recycling station, provided by our local utility company. Anyone can recycle their used cooking oil by bringing it in a closed, non-glass container and dropping it in the bin at one of the six area cooking oil recycling stations. The oil is recycled into cleaner burning biodiesel (in this case by an organization called Clean Energy Biofuels).
I realize my little city is connected to a university that's done quite a bit of biofuel research, so the fact that cooking oil recycling is available shouldn't be that surprising. But a spot check of a few cities around the country on Earth 911 showed that my city isn't alone in offering cooking oil recycling. At the very least, most cities offer proper disposal of oil and grease at hazardous waste drop-off sites, but so many offer recycling as well.
The great thing about biofuels is that they aren't just for powering vehicles. Grease can be turned into fuel to heat your home. According to Earth 911, one resourceful city, Merseyside, England, is using it to power homes. By offering a grease collection program to its local citizens, Merseyside is also helping to keep those folks from pouring their grease down the sink, which in turn keeps the city's sewer systems clean, thus saving the local utility some money on upkeep. And in Kilmarnock, Scotland, you can pay bus fare by taking used oil to a recycling plant.
So rather than dump all that cooking oil you'll be using to make your Thanksgiving meal next week in the trash — or worse, down the drain — put it in a safe container and check out Earth 911 to see if you can recycle it. Who knows, maybe it will end up in your car someday or powering your oven!