Posted on
July 20, 2010

by

Today's post is by guest Greenist Deborah Adams.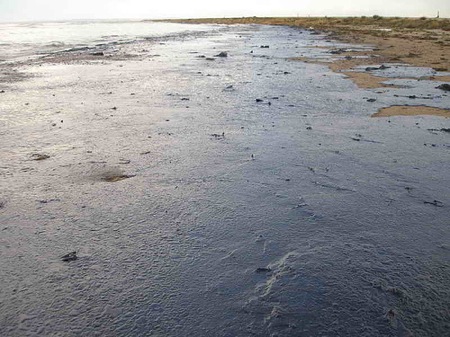 The oil spill in the Gulf has been the lead story on every major news broadcast for weeks now. Like most people, I was horrified and sickened by the images on the screen and in my head. The devastation of wetlands and beaches, the death of wildlife, the extinction of a way of life for hundreds of thousands of people in the region, is too overwhelming to consider for more than a few seconds. The worldwide impact of this tragedy is impossible to know at this point. We may as well try to grasp the size of the universe.
At first I was angry at BP, the company that didn't bother to develop an effective prevention or a workable clean-up plan for such a contingency. It's easy to make a faceless corporation the bad guy in such a situation. However, honesty compels me to admit, to myself and to you, that I am the heart of the problem. The truth is that BP and other oil companies are only supplying what we consumers demand. Like almost every other human on Earth, I am addicted to petroleum-based products.
I had to ask myself – if we, the self-proclaimed environmentally-friendly activists, had known six months ago that this oil spill would occur, would we have given up our destructive behavior? Would we have sworn off buying petroleum-based products for the rest of our lives? Is it even possible to survive in this world without oil?
When the price of gasoline shot sky-high, we didn't give up driving, did we? But if we had switched to electric cars and bicycles, we'd only be addressing half the problem. Approximately 50% of the oil being pumped out of the Gulf and all over the world is turned into polymers that form the basis of plastic, which in turn is used in the production of…
Cameras
Telephones
Lipstick
Hair color products
Pantyhose
Candles
Trash bags
Deodorant
Asphalt
Soap
… as well as millions of other items that we use every day.
Unless and until we give up every single petroleum-based product, each of us is responsible for what happened in the Gulf. The death of every person who died when the BP offshore drilling operation exploded is our fault. Every bird, every turtle, every inch of oil-soaked beach is our responsibility. We chose to trade those things for light-weight computers and Plexiglass.
We want to make it an easy judgment – blame the oil company for their irresponsible behavior. If only it were that simple. We can talk and rage and protest all we want, but in the end we will have to make major and inconvenient changes in our lives if we truly want to save this planet. Am I ready to make that sacrifice? Are you?
Deborah Adams is a content writer for Online Schools and Online MBA who gives advice on the pursuit of education and living a healthy life. She also is a contributing writer for a site that helps students determine the best online nursing programs for them. In her free time she enjoys gardening and yoga.