Posted on
November 24, 2009

by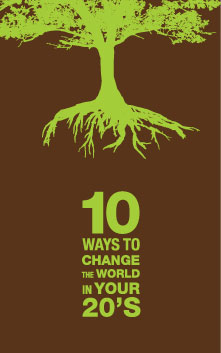 When Libuse Binder's new book, Ten Ways to Change the World in your Twenties arrived, I was excited to crack it open and see what it had to offer. As a self-professed realistic idealist, a book with both big ideas and small details appeals to me.
The organization of the book is unlike any I have seen before – ten chapters (the "ten ways" in which we can "change the world") are filled with a myriad of actions and ideas to implement that relate to each of the chapters. Each action has a rating scale based on time, money, and lifestyle impact required to complete the action. For example, moving to an organic farm for an internship is cheap, but a gigantic lifestyle impact. This is incredibly helpful in your twenties – a decade of life that arguably sees more change and transition than any other. A graduating college student is able to make much greater lifestyle changes than those twenty-somethings who are married and/or parents. And a career-oriented twenty-something who wants to contribute to a better world, but doesn't have much time can use the rating scales to find a perfect fit.
With topics like volunteering, supporting political actions, turning your passion into a vocation, simplifying your life, voting with your dollar, eating well locally, and more – there is something for nearly anyone who is interested in making a difference.
"Be an informed activist. Not the pompous, condescending kind but the wise, gentle kind, like Yoda or Gandalf, who seem merely to be reminding people of what they already know to be true."
Binder's writing style is casual and engaging – it feels like you're enjoying coffee together as she chats about how you might do your part. And with her emphasis that, no, you don't have to change everything about your entire life if you care about [insert cause here]; little steps add up to big changes, it is a very accessible, unpretentious book.
If nothing else, this book would be worth the read just for the fabulous lists of resources throughout the book – from the lists of website resources (by subject area) to must-see documentaries to reliable political blogs. Binder also sprinkles each chapter with success stories of fellow twenty-somethings who dreamed big – and made it happen. The book is both incredibly useful and very inspiring.
And appealing to the energetic, enthusiastic idealist in all of us.
Ashley blogs at Our Little Apartment, and has an Etsy shop, where she sells reusable things made from new and recycled materials.