Posted on
July 22, 2011

by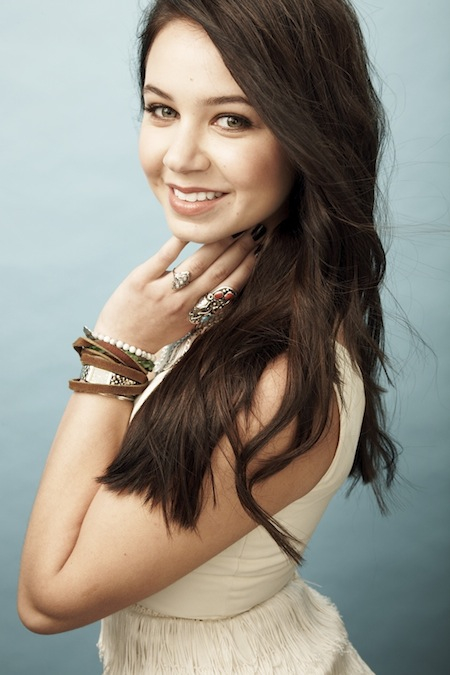 I have a hard time reading when I'm writing the first draft of a book, so when I take breaks, I binge watch TV shows.  Entire seasons of a show on Netflix are my bribe and my break and what keeps me moving through my day. A few months ago, I got hooked on Make It Or Break It, because Ayla Kell is just plain awesome.  She plays a Payson Keeler, a teenager who has sacrificed the trappings of a normal childhood in the hopes of becoming an Olympic gymnast.  Ayla plays Payson with a mix of vulnerability and drive that makes it impossible to stop watching.
To be completely honest, I've gotten a little jaded by celebrity greenies.  Sometimes the token gestures they put forth into the green world feel more like a way to get good PR than a genuine effort.  But I wanted to chat with Ayla because I love her on Make It Or Break It and I thought it would be fun to talk with her.  I figured I'd be able to walk away with at least a few PR friendly-tips to pass on to readers, and I could slip in a TV-geek question or two for good measure.  But Ayla doesn't spew sound bites.  Her interest in conservation and the environment is genuine and passionate.  She actually taught me a thing or two about going green.  It was refreshing and inspiring to talk with her. 
"I'm all about making small everyday changes," she said, and we chatted about the usual green topics like recycling and taking your own bags to the grocery store.  Ayla lamented the fact that many places in the U.S. still don't have easy access to recycling services, and applauded programs that charge for grocery bags.
Ayla is passionate about reducing waste and keeping her carbon footprint small.  She's big on carpooling and always tries to get or give rides to events.  She also brings home leftover food from shoots to share with friends instead of letting it be thrown away, grows veggies in back yard, and tries to make food at home as much as possible.  "That way, when I'm the one cooking, I can take responsibility for minimizing waste."
She's currently using a piece of cinderblock from the set to keep her computer elevated so it doesn't overheat.  "It works, and it doesn't look bad, so what's the problem?" And she's always looking for ways to get more use out of objects that would otherwise be discarded.  "We all have friends and friends who have kids and everything is re-useable."
When I talked with Ayla, she was just about to embark on her next green project: painting her kitchen cabinets with low VOC and chalkboard paint.  A few cans of paint will allow her to reuse the existing cabinets in her home instead of replacing them with new ones.  "Why spend money on more product than you need?  It's a waste of money and waste of product."
Then we started talking about green fashion and beauty, and Ayla blew my mind with how much thought and effort she's put into making the greenest choices she can.
Here are Ayla's fashion tips:
Shop at Goodwill and then get the clothes you buy tailored to fit you exactly. It's recycling, and it's thrifty! You'll save money on the clothes and then you can use some of the money you save to make the clothes look like they were made for you.
Try to find pieces that are multifunctional, knowing that you'll be wearing them many many times. Avoid pieces that are only good for one specific outfit or event.
Pick a color palate for your wardrobe and stick with it, so everything is in the same tone and everything goes together. To make sure a new item will get use in her wardrobe, Ayla makes herself think of five things she'll wear a new piece of clothing with before she buys it.
Always get shoes re-heeled instead of  buying new ones. Ayla has a few pairs of boots she says she couldn't live without.  When they start looking worn, she has them resoled and has the footbeds replaced.
Consider buying refurbished shoes. Ayla says Frye sells refurbished boots and Nordstrom Rack stocks them.  They're just as good as new, but for much less.
When it comes to eco-friendlier beauty products, Ayla says it's all about research and making choices. "It's hard to find an entire product line that's going to match your lifestyle. I want big companies to understand that helping to the world helps everyone.  Not every company out there is going to have a perfect line of environmentally friendly products, but we can support the best products they have to offer, and choose other products from different lines to fill in the gaps and meet our needs. "
In choosing products, Ayla says there's a balance to be found.  "There are people who have acne who are going to need a product with salicylic acid in it if they want to have clear skin.  But if a product has salicylic acid in it, it's not a green product.  You can't get all the benefits of modern technology and ask for it to be completely green.  It is a give and take. And ultimately, you have to choose what works best for you."
For people who color treat their hair Ayla warns that there's even more of a need to avoid adding extra chemicals to your hair, since color treated hair is more prone to damage and breakage.  She recommends going sulfate-free.  "Sulfates, for anyone who doesn't know, are chemicals that beauty product manufacturers put into anything that lathers – that's where that super bubbly lather comes from, and you don't need it."
For styling, Ayla keeps it simple.  She recommends using salt water in a spray bottle.  "I don't need to buy surf spray, I have water and salt at home."
Ayla is full of good green ideas and the best thing is that she's not preachy about her eco-friendly ways.  "I'm not trying to be perfect," she told me, "I'm just trying to do the best I can."  For people who are new to the green movement, Ayla recommends doing some research and gathering information.  "I always say, if you don't know about going green, do the research and it will force you to go green.  It changes your viewpoint when you see the facts. "
Make It Or Break It is nominated for a Teen Choice Award!  Vote for the show here.  And you can follow Ayla on Facebook here.  And, if you're in the mood for a TV binge, the first two seasons of Make It Or Break It are available on Netflix Watch Instantly and Hulu.