Posted on
September 1, 2010

by

Please welcome today's guest poster, Louise Baker.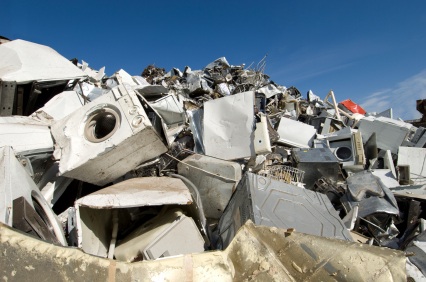 The importance of continual, proactive recycling cannot be over-emphasized: humans produce many pounds of waste every day through thoughtless consumerism, while not limiting their consumption or making any attempt to re-use their possessions. However, a little effort put toward recycling can prevent functional products from filling up landfills; they can begin to save the planet, one recycling act at a time. What follows is a list of 5 great recycling websites that promote recycling, and thus a sustainable future.
1) Earth911.com
Earth 911 is a resource for those wishing to recycle almost any item, from industrial-strength cleaners to discarded medication, to cell phones and digital cameras. For even the most specialized items, there are often local recycling centers that can strip reusable components from electronics and safely dispose of hazardous materials for free or very inexpensively. Earth 911 offers both informational articles on recycling specific products, as well as a local search tool for finding appropriate locations that will accept and recycle your items.
The ultimate classified ads website, Craigslist connects buyers with sellers of many used goods, especially furniture, automobiles, and electronics. Purchasing a couch or iPod secondhand might not sound glamorous, but it allows you to use a perfectly good item that the original purchaser no longer needs, and prevent it from being thrown in the garbage, useful to no one. The market for less valuable items on Craigslist is much less active, but there are still people selling smaller items for little to no money, just so they can find their belongings a new home with someone who needs them.
3) EPA.gov
The U.S. Environmental Protection Agency's website offers a thorough explanation of the recycling process, as well as information regarding composting, industrial materials recycling, and holistic, environmentally-friendly landscaping suggestions for individuals and businesses.
1-800-Recycling has a comprehensive recycling center search categorized by item type, as well as an Apple iPhone app for finding recycling locations on the go. This site also provides links to state-level recycling regulations and legal requirements, as well as a blog on relevant current events that promote re-using and recycling.
Recycle Bank allows consumers to reward themselves for environmentally-friendly decisions through a web-based points system. The website is still growing, but you can send in your old electronics, sign up with electric utilities that use green energy sources, or use your city's recycling program (if it is partnered with Recycle Bank) to earn points that can be redeemed for real rewards or cash.
Thanks to consumer education efforts by recycling organizations and governments, recycling is finally getting the attention it deserves, and these five recycling websites are only a handful of hundreds of sites that support responsible consumerism and environmental awareness.
Louise Baker ranks online degrees for Zen College Life. She most recently wrote about the best colleges online.