Posted on
July 29, 2008

by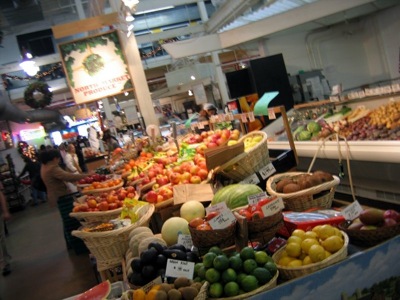 Brenda writes:
Hi Allie–

I recently moved to another state and discovered they have Wegman's here, which I am overjoyed about!  When I went today, I brought along my reusable grocery bags BUT soon realized that this Wegman's likes for the customer to weigh their own produce and stick a price label on it…many items required me to put them in a plastic produce bag in order to get the price sticker on there.  I thought it was such a waste of plastic (not to mention the materials for the extra large price sticker that gets printed).  Do you have any suggestions on what I can use to hold my produce in at the grocery store?  I need something that I can easily attach and remove a price sticker.

Thanks!

Brenda
Here's what I suggest.
When possible, avoid using a bag completely.  With items like a bunch of bananas or carrots, a single avocado or grapefruit, or a watermelon, you can stick the label right on the produce.
For items that require bagging, check out Organic Needle's reusable produce bags.
From the product description:
These reusable produce bags are made of natural 100% organic cotton mesh. The mesh allows ethylene gas to escape, meaning you can leave the fruits and veggies right in the bag in your fridge. The bags can also be moistened to keep hydrophilic veggies happy. These bags can also be used for bulk bin items such as grains, beans, and pastas. The cording is also made from 100% organic cotton.
The bags should also allow for a label to be stuck on lightly and removed several times over.
(And while we're talking about Organic Needle, I was lucky enough to be a tester for her new organic cotton tea bags.  Check out the reviews here.)
Another option is to avoid bagging and labeling your produce all together.  The checker will have to weigh it when you check out, and may not be too happy about it, but doing things this way won't create any additional waste.
You can also check LocalHarvest.org for farmers' markets and CSA programs that will make it easy to get bag-free produce.
Thanks, Brenda!
If you have a green question for me, drop me an e-mail me at AlliesAnswers at gmail dot com.