Posted on
June 27, 2008

by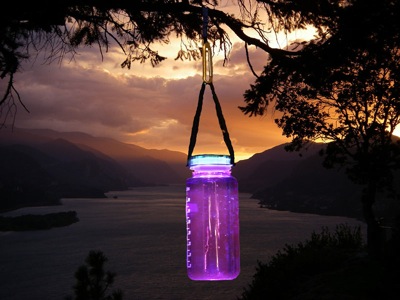 Hey Allie,
I have a question for you. I decided to trade all my (poisonous) water bottles in for the aluminum Sigg bottles. But what do I do with the old water bottles? Can I recycle them? That seems kind of counter-productive to trying to help the environment. Help!
-NPW
This is kind of a tricky question.  Especially since we're all walking around feeling like our old Nalgene bottles are toxic waste (Nalgene, btw, has started making BPA free bottles).
Since the big problem of polycarbonate bottles is the leaching of BPA into the food or beverage they contain, using the bottles for non-food purposes is a good option.  According to Treehugger, polycarbonate is also used to make CDs and DVDs, but as long as you're not sticking them in your mouth, they aren't a concern.
I am assuming that when recycled, polycarbonate plastics would be reused for CD & DVD production and the like (especially since the demand for BPA plastics in the bottle business has got to be waning).  The issue is that polycarbonate plastic is #7 plastic and not usually recycled.  But if #7 can actually be recycled, having your old Nalgene reincarnated as the latest new release, is far better than leaving it to sit and leach in a landfill.
Some recycling centers will take it, but I remember from a class I took in college that just because they take it doesn't mean it gets recycled.  So, if you really want to keep your Nalgene out of a landfill, repurpose it.
Back in March, Mickey mentioned in comments that he fills his old polycarbonate bottle with hot water and uses it as a bed warmer.  You could fill it with ice and cold water in the summer to do the opposite.  And, hot, cold, or empty, it might make decent lumbar support while you're sitting if it works out in the right proportions for you.
You can use old Nalgene bottles to collect loose change, store art supplies, buttons, hardware, or other small objects.  Or, you could use them store keys, notes, pencil and paper, or other objects outside while keeping them dry.  A commented on You Grow Girl recommends using them as a way to store important paperwork on a boat, but it might also be a good way to keep things dry on a trip to the beach or the pool.
These solar powered caps convert Nalgene bottles into lanterns.
Halfway through writing this, I checked out Sustainable Thinking's post on repurposeing Nalgene bottles.  We had a lot of the same ideas (great minds, right?), but Sustainable Thinking also suggested making a waterproof first aid kit.
A commenter on WTA suggested filling a Nalgene bottle with sand to weight your pack for training, but you could also use sand or water to fill them and make weights to exercise with, or use them to weigh down a tarp or beach blanket.
If you're committed to kicking your polycarbonate bottles to the curb, put a post up on craigslist or Freecycle first to see if someone else wants to use them for storage purposes (make sure to mention that they aren't to be used for food or water anymore).  If you don't get any takers, try putting the bottles in your recycling bin if you think your collection company takes #7 plastics.  It's still better than throwing them directly in the trash where they have no chance of being recycled.
Thanks, NPW!