Posted on
July 30, 2008

by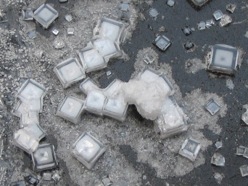 Audrey writes:
Thanks for posting my tip Allie.

Now I have a question for you. Since I've banned bleach from my house I don't know what to use to clean the basket of my coffee maker. I've always just soaked it in bleach solution and it came up clean as a whistle. I've now tried soaking it in dishwashing soap with baking soda and scrubbing it with a brush – no good. Any ideas greatly appreciated!
Hi Audrey!  Good for you for banning chlorine bleach in your home!  I had noticeable respiratory symptoms any time I used chlorine bleach.
If you're looking for a chlorine bleach substitute for other household cleaning jobs, consider oxygen bleach or a peroxide based bleach.
But for your coffee basket, I have two suggestions.
Vinegar and baking soda will often do the trick (and make you feel like you're doing a grade school science experiment).  I make a paste of the two ingredients, slather it on to the area I'm cleaning, and let it sit for a few minutes before scrubbing.
Salt.  I had horrible stains and splatters on my stainless steel tea pot and used salt to scrub it with amazing results.  I used hot water to rinse, but made sure the salt was still granulated and not dissolved for extra scrubbing power.  To read more about using salt as a cleaner, check out this older post.
Hope this does the trick!  Let me know how it goes!
Thanks, Audrey!
If you have a green question, drop me an e-mail at AlliesAnswers at gmail dot com.