Posted on
April 1, 2008

by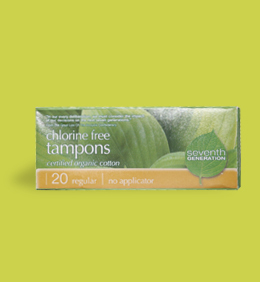 Baltimore Bliss asks:
"It would be great if you could post on the safest tampon choice. I started a discussion about this at the crazysexylife site and people are pretty confused. Let me know if you have any insight into this question."
We talked a little bit about eco-friendly choices for that time of the month back in October.
One of the issues with using tampons is dioxin, which occurs when the materials used to make tampons (mainly rayon and cotton) are bleached with chlorine. Dioxin has been linked to cancer even in low levels of exposure, and it's not really something you want to put in contact with any area of your body, let alone that area. If the tampons you're using are made with regular cotton, you're also risking exposure to the pesticides that were used during cotton production.
If you're set on using tampons and not interested in switching to reusable pads, look for tampons like Seventh Generation and NaturaCare that are dioxin-free and made from organic cotton. Both brands are great, but I think NaturaCare tampons are slightly better.
Go for applicator-free to cut down on waste. And, according to Umbra, you can even compost your tampons, if you want to take it that far.
Another great option is using a menstrual cup like the Diva Cup, which is made from surgical grade silicon, or The Keeper, made from natural rubber. Menstrual cups are reusable, easy to use, one you get the hang of it, and because they are non-absorptive, they can be used even on low flow days or when you think you're getting your period. Plus, one menstrual cup, which costs about thirty dollars, will last for about ten years.
If you can't make the switch to a cup or organic tampons, consider only using tampons on heavier flow days, and opt for a reusable or organic cotton pad on lighter days.