Posted on
August 2, 2007

by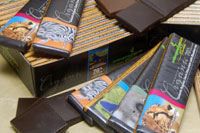 Dear Allie:
For all of us chocolate lovers, is Endangered Species Chocolate really all the "cause" it's cracked up to be?  If so, I know where to get my chocolate fix!
~Mindae
Mindae,
I did a little poking around, and I feel pretty confident in saying that Endangered Species Chocolate is a responsible way to get your chocolate fix.
Ten percent of their net profits go to support "species, habitat and humanity." Earlier this year they partnered with Chimp Haven and The Ocean Conservancy, and are also funding six scholarships for Nigerian schoolchildren.
Every year they donate more than $100,000 in product to organizations "dedicated to helping the planet and its inhabitants." They have a policy that allows employees to volunteer for two hours a month during work hours, which adds up to around 100 hours a month across the company.
They recycle, use recycled products,  print their wrappers with water-based inks, and give instructions for reusing and recycling their packaging on large orders.
While they are no longer Fair Trade certified, their cocoa is 100% ethically traded and the money they previously earmarked for Fair Trade certification is now used to directly support farmers at the Concado Co-op where they source their cocoa.
So, get your chocolate fix with Endangered Species Chocolate.  It's guilt free (except for the calories)!
Do you have a green question you'd like answered?  Email me at alliesanswers at gmail dot com.